Posted 8th February 2010 | 3 Comments
Speculation grows about Birmingham High Speed hub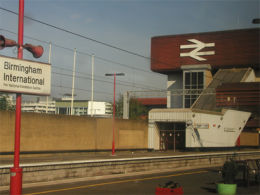 A NEW High Speed Rail hub serving Birmingham is in the news again, following reports that a new station is being considered on HS2 close to Birmingham International. The new station would also serve the National Exhibition Centre and the airport.

However, such a development could have major implications for airports in the south east, because Birmingham International Airport could then be reached more quickly from parts of central London than Heathrow.

London to Birmingham would take some 50mins from Euston, which would compete with a similar or longer journey time to Heathrow. The Department for Transport is refusing to comment on the development of an outer Birmingham station, although the Government is currently considering a report from its development company HS2, which sets out details of possible routes between London and Birmingham down to accuracies of five metres.

The report is not being published until the spring, because the DfT said it did not want to reveal options which could trigger planning blight. A further problem is that the line would run through the Chilterns. Local opposition has already started, because the Chilterns include areas of outstanding natural beauty which opponents fear could be damaged.

All three major parties are backing the development of High Speed Rail in principle, although the Conservatives have emphasised the importance of including Heathrow in the eventual network.
Reader Comments:
Views expressed in submitted comments are that of the author, and not necessarily shared by Railnews.
Birmingham's airport growth depends on runway capacity - it cannot uplift a full long-haul load from say a 747 or an A380. Not only runway lengthening is required, revised flight path clearances over built [residential...] areas are also needed and possibly a second fully-operational runway. I doubt Heathrow mandarins are losing sleep.

When Birmingham International was designed, space between the station and the exhibition centre was deliberately left in case of future rail expansion.
Thank goodness for the engineers' vision at the time.

The Chilterns. So why not follow the M40 alignment? Motorways are considered environmental blight (noise, lights, fumes), planning would be simpler. eg as does the new LGV to Brussels.