Posted 24th November 2009 | 14 Comments
A new station in a week: Network Rail helps flooded town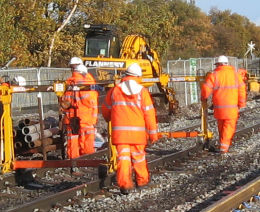 Network Rail is building a temporary station to provide an emergency transport link on the Cumbrian Coast.

Work is underway on a new halt with two platforms on the north side of the River Derwent at Workington.

NR said it had found a site for a temporary station on waste land almost 1km north of the existing station. It will reconnect the halves of the town which have been cut off by flood damage to foot and road bridges, and should be open by the end of the week.
Robin Gisby, who is NR director operations and customer services, said: "We have a wealth of experience and engineering expertise that we felt should be put at the disposal of the Cumbrian authorities. Our people will work round the clock to build a temporary rail station, north of the river, to help re-connect the town and ease people's travel problems."
Network Rail has agreed a two-year lease of land owned by Allerdale Borough Council off the A596 immediately north of St Helens Business Park, opposite the Plaza Cinema. The two-platform station, linked by a footbridge, will have lighting, a waiting room and a gravel car park, and will be built and ready for its first passengers by the weekend. Trains will be strengthened by Northern wherever possible, and from the end of this week all trains on the Cumbrian Coast line will stop at the new station -- to be known as Workington North. Network Rail said the arrangement will continue 'as long as needed', and that buses will also be diverted to serve it.
Route director Jo Kaye said: "Through aerial surveys we identified several potential sites for a temporary station. The council, despite being under considerable pressure, worked with us to quickly identify the best solution and a site was chosen. Work will start tonight and we will have the station open just as soon as we can."
Meanwhile, Network Rail has been carrying out emergency inspections on rail bridges in Cumbria. It said all had been passed as safe for a normal train service.

Reader Comments:
Views expressed in submitted comments are that of the author, and not necessarily shared by Railnews.
Red tape, significant overheads and bureaucracy plus a legacy of under investment in the national rail network. Now....wow...well done Network Rail for doing something for a community in need using all the skills you have in record time

I know it's only temporary, but it baffles me why a more permanent new station takes forever (if ever) to happen - just read Newtork rail's RUS almost pathelogical hatred of new stations (and the obstacles they put in the way). In 1988 the much derided BR charged £88,000 for new stations around Skipton/Keighley, now the simplest halt costs £5 million (even with inflation and disability legislation I can't see how the increase is justified). So how temporary is this station - what is it made from - is there a lesson to be learned? Want a new station in your area? Just blow up an old one or a bridge and Network rail will put up a new one in a week. Failing that wait for twenty years to not get a new station. Even if this temprary station falls apart in a year then it seems quicker and cheaper to replace it than the quotes Newtork rail give for new stations.

Big thanks to Network Rail and all the hard working contractors who are trying to get are lives back to some normality. Well commended effoets. Superb!!

I guess for a shuttle service you'd need additional tracks/bay platforms at Workington and Workington North. I imagine that would take more than three days to build.

I have to say I'm astonished (in a good way!) at this news - at a time where it seems every red-tape obstacle known to man is in place to prevent improving rail infrastructure, it is just amazing that this emergency project can be greenlit and work on the ground started so quickly. Brilliant organisation!

Action this day, eh? I wonder if the Royal Engineers could construct a Bailey bridge across the river until something more permanent is planned.

Well done Network Rail. We are a community in crisis here in Cumbria. This is step one, but please add more trains. The most helpful addition once the shuttle is up and running is to provide a service from North of the river Derwent to Sellafield (i.e start the 07.28 service currently from Whitehaven from further North e.g. Maryport or even Carlisle). This would take a lot of congestion off the roads in West Cumbria.

I wonder how they got it all through the approval process so quick when it normally takes a year for a Form EA and Form EB design?

A heavily subsidised if not free train service funded by the local council (or even central government) shuttling back and forth all day at 15-20 minute intervals is the next step...

Fantastic organisation, really impressed. Almost makes you proud to be British!

Is there some way that the local trackwork would allow the normal Barrow-Carlisle service, along with an more intensive shuttle Workington-Workington North. Something for a Parry People mover?

All credit to Network Rail and their hard working team. Absolutely brilliant to step in like this. Well done

Where there's a will there's a way eh ?