Posted 12th November 2009 | No Comments
National Express brand stripped from East Coast ahead of handover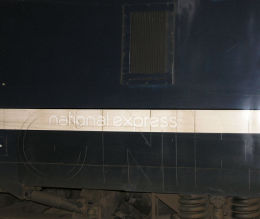 The traces of not one but two failed franchises can be seen on East Coast vehicles
The National Express brand is already being stripped from East Coast rolling stock. The process began more than two days before the scheduled handover at the end of Friday evening, and some trains were in service from Wednesday without the National Express title.

The countdown is on for the formal end of the NX East Coast franchise at 23.59 on Friday. From midnight, control passes to the nationalised East Coast Main Line Company which has been formed as a subsidiary of the DfT's Directly Operated Railways.

The DfT has also announced that East Coast will be run by Karen Boswell, who is a former customer services director at First Capital Connect. Directly Operated Railways is chaired by Elaine Holt, who was managing director of FCC until earlier this year.

The DfT has devised replacement East Coast branding, having said that the National Express identity will be removed 'as soon as practicable'.

No firm timetable has been published for reletting the franchise, but it is not expected to be before 2011. Meanwhile, speculation continues over the ownership of the remaining NX franchises, East Anglia and c2c. The RMT is calling for the renationalisation of both contracts.