Posted 22nd October 2009 | 2 Comments
Just £6m left before National Express East Coast will be surrendered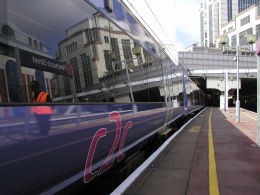 National Express Group has warned that its profits are likely to be lower than expected this year. The warning comes in an Interim Management Statement, which has been published as discussion continues about a possible merger with Stagecoach Group.

A proposed takeover by a consortium led by the Spanish Cosmen family was scrapped on Friday 16 October, to be followed immediately by new overtures from Stagecoach, but these discussions are said to be at an early stage.

If a merger did go ahead, Stagecoach would be set to acquire both the c2c and East Anglia franchises, as well as the Midland Metro tram concession. NXG said East Anglia had met its performance targets, which should qualify it for a three-year franchise extension from April 2011. However, any extension of the contract will be subject to a formal review by the DfT next month.

Meanwhile National Express said that the surrender of the East Coast franchise is set to go ahead, as expected, before the end of the year. Of £40m which had been made available from the Group to support East Coast, just £6m is left.
Reader Comments:
Views expressed in submitted comments are that of the author, and not necessarily shared by Railnews.
I agree,the whole idea of privatising the railways was to introduce competition,what competition ? all we have now is the same fixed routes run by bus companys,no competition at all.
renationalise the whole lot ,reopen masses of closed lines,fund it properly,build new high speed lines,and get the freight off the roads !

NXG still in profit! Really a case for the re-nationalisation of the railways as they should be a SERVICE to the travelling public. The Conservatives sold them off to their mates who initially made a good living but if the amount thrown at the railways had been given to BR we would have had a good and cohesive system. As many parts of BR were making operating profits.