Posted 1st August 2008 | No Comments
China starts very high-speed train service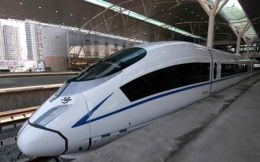 The very high speed train, CRH3 "Hexie".
WHILE the debate continues in Britain whether to build another high-speed line beyond HS1 (the Channel Tunnel rail link), China has opened its first very high-speed line, allowing trains to run at 350 km/h (217 mph) — 30 mph faster than Eurostars.

The new line has been built between Beijing's newly-opened southern station to the just-renovated Tianjin station in readiness for the Olympic Games. The journey time is just 30 minutes, twice as fast as existing train services.

According to China's Ministry of Railways, the new railway is the first in the world on which trains can travel routinely at 350 km/h.

The new trains on the route have been built utilising German technology by a joint venture involving Siemens and the China Northern Locomotive and Rolling Stock Industry Corporation.