Posted 14th June 2007
Tube train 'seconds from crash'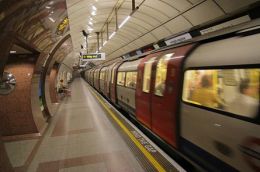 An investigation was launched after a London Underground Tube train came within seconds of a head-on crash in a tunnel.
The incident happened after the driver of the train took it out from a station in a southerly rather than northerly direction.
He had been asked to change trains at Camden Town after the Northern Line train he had been driving was signalled into the wrong platform.
But it appeared that for some reason he climbed into the cab at the 'wrong end' of the train for the direction in which he was supposed to travel.
Soon afterwards he was confronted by the headlights of another train which had been stopped at a signal.
He made an emergency stop and came to a halt around 20 yards from the oncoming train. Later his train was returned to Camden Town. It is understood that the near miss happened near to where a train smashed into a tunnel wall four years ago.
A London Underground spokeswoman said: "A formal investigation into the incident is now well underway.
"Incidents of this nature whilst disturbing to the public are incredibly rare. "As is standard procedure, the driver has been stood down pending the outcome of the inquiry."
The Rail Accident Investigation Branch said there had been no damage and no injuries to anyone on board the trains. The branch said a report on the incident would be published at a later date.