Posted 9th September 2009
Train company extends Sunday double time payments to avoid more wholesale train cancellations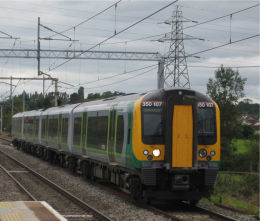 London Midland
LONDON Midland is to continue paying double time to drivers and conductors on Sundays after the company was forced to cancel the majority of its 500 services when staff failed to volunteer for work.

The company, which runs trains in the West Midlands and also between Birmingham and Liverpool and Birmingham and London, was only able to run a handful of its usual services last Sunday after a temporary agreement to pay double time until 30 August ended.

The payments began in May to incentivise staff to volunteer for Sunday working over the summer months when demand for holidays and time off reduces the number of volunteers.

Mark Pritchard, Conservative MP for The Wrekin, called on transport secretary Lord Adonis to investigate the disruptions.

He said: "Hundreds of Midlands people use these trains for business and leisure. London Midland need to pay their staff a fair wage to work anti-social hours."

The train company, which is run as a GoVia joint venture between the Go-Ahead Group and France's Keolis, said the temporary double time payments had been agreed with the RMT and Aslef rail unions, over and above the usual enhanced payments for Sunday working.

Andy Thomas, operations and safety director for London Midland, said earlier this week that neither of the unions had said they had an issue with the ending of the double time payments.

He added: "This issue is one that can only be resolved through discussions, staff not coming to work is not a solution."

But today the company announced it was to continue paying double time for Sunday working for an "extended period" while it seeks a long-term solution to Sunday working arrangements.

In a statement the company said meetings have been held with the trade unions and staff representatives for drivers and conductors to discuss the issues around Sunday working and the reasons for the low numbers of volunteers last weekend.

"As a result of these discussions, and to ensure that London Midland passengers are not inconvenienced by further cancellations and disruptions with the Sunday services, London Midland managers have advised Aslef and the RMT we will continue to offer enhanced overtime payments for drivers and conductors working Sunday shifts.

"This is again for a time limited period and we will be continuing to seek a longer term solution, as we have already been doing, as well as ensuring that we continue to offer passengers improvements to the performance and reliability of London Midland services across the week.

"We apologise for the disruption to services on September 6. London Midland fully understands the need to be able to offer our passengers a robust and reliable Sunday service in the future."

Meanwhile, in another dispute, rail union RMT announced a day of strike action on First Capital Connect for Monday 14 September in support of the reinstatement of a revenue protection officer who was sacked by the company following an alleged incident at a ticket barrier.

The union claims the women involved was the "victim not the aggressor".

But a First Capital Connect spokesman said: "It will be business as usual on Monday. We intend to run a near-normal service using fully trained employees to cover for the mainly ticket office, ticket inspector and ticket gateline staff who will be on strike.

"This is an unnecessary strike over the dismissal of an employee for gross misconduct. The incident was seen by several credible witnesses including an off-duty police officer.

"The safety and security of our staff is our absolute top priority and FCC has followed the disciplinary procedure agreed with the trade unions all the way through to appeal. FCC will not meet the RMT's request to reinstate that employee.

"There is no widespread support for this strike: just 116 of the 443 RMT members balloted voted for strike action with 289 abstentions and 38 voting against.

"It is likely, however, that services between Finsbury Park and Moorgate are likely to be suspended because a greater number of specially-trained staff are required to operate these sub-surface stations. FCC tickets can be used on the Tube instead.

"There are likely to be no overnight services from approximately 10pm on Monday night until approximately 5am on Tuesday morning at this stage, but we are confident we can run a service and this will be announced as soon as we know this is possible."

In another dispute train drivers' union Aslef has announced a week of strikes from Monday 21 September by train drivers working for National Express East Anglia (NXEA).

The union said that strikes which were suspended last month will begin again after a ballot conducted by the union revealed that its 800 members in the company did not accept the proposed revised deal.

Further days of industrial action will be announced in the near future, says the union.