Posted 20th December 2011 | 10 Comments
Transport for London refuses to accept more new trains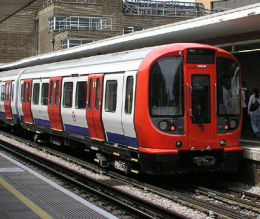 TRANSPORT FOR LONDON has refused to accept any more new Underground S-Stock subsurface trains from Bombardier in Derby for the time being, because of 'reliability issues'.
Transport Commissioner Peter Hendy told the Transport for London Board that 16 of the new trains have been placed in service on the Metropolitan Line, but that further deliveries had been halted temporarily while some modifications are made.
The suspension of deliveries will also allow Bombardier more time to carry out tests at the Litchurch Lane works in Derby. No one at Bombardier was available for comment.
This interruption is being described by TfL as 'short term', and is not expected to make any difference to the full programme of subsurface stock replacement, which is scheduled to continue until 2014.
By then, all the existing subsurface trains should have been replaced, and S-stock will work the Metropolitan, District, Hammersmith & City and Circle services.
The oldest Underground rolling stock now in service is the A-stock on the Metropolitan Line.
The trains were built by Cravens at the start of the 1960s, allowing the last locomotive-hauled compartment stock on the Underground to be retired.
Reader Comments:
Views expressed in submitted comments are that of the author, and not necessarily shared by Railnews.
As a former rail worker (now 'retired' - that's different work, less money and nore fun) I worked with overseeing a new fleet into a major TOC. All new stock is like a baby first time out of nappies - no idea where the next 'accident' will happen, only that it will happen. London's Routemaster buses needed 2000 modifications to go from pre-production to 'squadron' service. New fleets are great on test under perfect and controlled conditions, not applicable to the running railway and passengers. The big mistake is to give trains too small a run-in period; it's cheap only short-term.

More problems with Bombardier trains.
In the West midlands I believe London Midland are having problems with the new 172s, whilst at the same time on the electrified routes the 350/2 have had a fault free month. Of course these are made by Siemens.
Could this be the unspoken truth behind the Thameslink order going the way it has.

Not a great advert for Bombardier. All the hot air from the xenophobes over Bombardier, when they can't produce a quality product.

So what are these reliability issues and why has it taken so long for this announcement given S stock trains have been running on the Metropolitan Line for many months?

But how can you believe an organisation that cant remember to fill up a diesel bus before sending it on a motorway trip!!

Cliff Richard would not have gotvery far had Boris been in charge in the 1960s!!

Whilst I agree that it is not great, don't many trains have a few reliability issues (especially bespoke stock such as the "S" stock) when they first go into service?

Isn't that one of the reasons they are put in service a few at a time, to run them in and see how they work in a live situation and not just on some test track?

Obviously, a major hindrance, especially if they breakdown during service.

I think your comparison between a mass produced car designed to the producers own specs & a short production run of a few trains is a bit short-sighted. Apples and oranges, kinda thing.

Also, bricks and mortar, especially overground stations (like I assume Reading is), are much easier to deal with than underground stations, or intricate vehicles with dozens of moving parts that have to deal with hundreds of miles of different track situations. Again, apples and oranges.

Anyway, best of luck to all the railway gangs working over the xmas seasons - much appreciated!

Do you work in the industry? Modern trains are unbelievably complicated. Every train that has been delivered to BR and after have had teething problems. Whether it be the HST that kept blowing its pistons in the late 1970's to the Pendolino's. You can test them as much as you like in the factory, but it is not until they are out revenue earning that problems manifest themselves. You cannot compare a modern EMU with a car!

I agree there shouldn't be reliability issues with new trains but there're two significant differences between new cars and new trains:
1. New cars are evolutions of last year's models - even if the model name changes the technology gradually evolves. Trains are built in smaller quantitites and replaced infrequently so each new design is more of a step change (and techincally specific to the order) so more prone to reliability problems. And
2. New cars are relatively cheap so hundreds can be tested and tested and tested before each model comes out. You can't do that with trains that cost £2m per carriage and have very short build runs.

Rubbish! Unlike a car, a train can only be *properly* tested while on rails, under service conditions - and ultimately the specialised rail system / loading is ultimately to run on, at that!

I notice the spelling mistake in your email, Mr Pearce - with spell-checking easily available, by the same logic, aren't we to entitled to expect 'no faults' there, too?

I am sorry but in this day and age, we should not be having 'reliability issues' with a brand new train. I expect my new car just bought from the garage to be perfect with no faults for at least 3 years. Vauxhall now for example give a lifetime guarantee on their vehicles. We should expect and be getting the same quality from train manufacturers. I am keenly watching all the redevolpment work at Reading Station. Everything happens on time exactly the way it is announced to Press. If the Engineers can do these one-offs without fault then so should the rest of the Rail Industry.