Posted 23rd September 2010 | 1 Comment
Threat of more Underground strikes after talks fail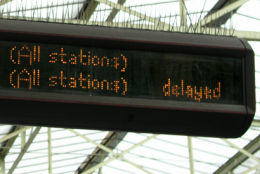 TALKS have broken down between Transport for London and the rail unions RMT and TSSA in the dispute over the loss of 800 jobs.
It has already led to one 24-hour strike on the Underground, on 6-7 September, and more are now set to follow on 3 October and then 2 and 28 November.

In each case the walkouts begin in the middle of the evening, so that most of the disruption occurs from the following morning's rush hour onwards.
The dispute is mainly about the loss of jobs at suburban stations, in connection with reductions in ticket office opening hours.
TfL has pledged that all stations will remain staffed, and that no ticket office will close entirely. However, it wants to reduce the opening hours at quieter stations, such as Amersham, where only 'a handful' of tickets are sold in a typical hour because, according to TfL, 19 out of 20 passengers are using Oyster smartcards or other forms of ticket, such as Travelcards.
Not all the staff displaced are being made redundant: some will be transferred to frontline duties on station concourses and platforms.
London Underground has also pointed out that the reductions are being achieved in part by natural wastage, and only amount to a cut of about five per cent in the total workforce.
The unions are arguing that safety is being put at risk if the number of staff on duty at stations is reduced, and the RMT has also claimed that some stations are being left unstaffed at certain times as it is, with RMT general secretary Bob Crow accusing LU of bending the rules.
"We already have examples of stations being run unstaffed on a regular basis in contravention of all safety practice and that scandal will escalate as management try and smuggle their cuts in via the back door though the non-filling of vacancies," he said.

Transport for London conceded that some lightly-used stations in the suburbs have become unstaffed for short periods, usually less than an hour, when the sole member of staff on duty had become sick.

But a spokesman said reliefs were always supplied as quickly as possible, and if there was no relief available then the stations affected had been closed. He insisted that no station is ever intentionally unstaffed on rosters.

He continued: "We are hoping to resume the talks at Acas this week, but it is noteworthy that although the unions are claiming that safety is at the heart of the dispute, no safety matters were mentioned during the discussions on Wednesday. You can draw your own conclusions from that."

In addition to the further 24-hour walkouts, an indefinite ban on overtime has also been imposed, which the RMT is claiming will lead to increasing disruption outside the formal strike periods.
Reader Comments:
Views expressed in submitted comments are that of the author, and not necessarily shared by Railnews.