Posted 10th January 2012 | 4 Comments
Breaking news -- New High Speed network approved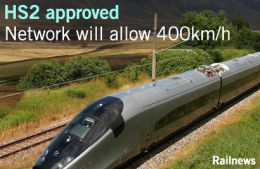 THE TRANSPORT SECRETARY has given the green light to a domestic High Speed Rail network in Britain. The eventual system will connect London, Birmingham, Manchester and Leeds, and allow through running to the continent via HS1. It will also include a link to Heathrow Airport.
The track will be designed to allow line speeds up to 400km/h -- a third higher than the maximum on the existing British High Speed line between London and the Channel Tunnel, and faster than most current High Speed lines offer in other countries.
Justine Greening said the project would provide new railway capacity on a scale which would not be achievable by 'tinkering with our Victorian rail infrastructure."
She continued: "A new high speed rail network will provide Britain with the additional train seats, connections and speed to stay ahead of the congestion challenge and help create jobs, growth and prosperity for the entire country.
"HS2 will link some of our greatest cities – and high speed trains will connect with our existing railway lines to provide seamless journeys to destinations far beyond it. This is a truly British network that will serve far more than the cities directly on the line.
"HS2 will deliver up to 26,000 more seats for rail passengers each hour and journey times slashed by as much as half. By attracting passengers off existing rail lines, roads and domestic air services, its benefits will be felt far beyond the network."
Reader Comments:
Views expressed in submitted comments are that of the author, and not necessarily shared by Railnews.
jak ganley - "This is another waste of money to go along with London Crossrail"
(spits tea out over desk)
I really would love to stuff you into one of those sardined Central Line carriages I have to travel in every day right now !
For you need to get out and have a look how congested it is.

No surprise here,only one gripe,who in their right minds wants to get to that dump called Birmingham? it has the worst station in the UK and will allways have. The only argument i have read is that its only worth building so as cities like Leeds(another dump) can be connected.
Mind you its not over 'till the first digger breaks earth can see a long and well organised campaign from the Chilterns.
This is another waste of money to go along with London Crossrail

The first job needs to be planning and implementing the long over due upgrade to Euston mainline Station together with its tube station and also Euston Square and other nearby stations.

With London bridge station upgrade now underway Euston needs to follow ahead of HS2 with decisions on whether the Midland service should be diverted via Crossrail and whether the Overground should either be diverted via the North London Line or a new sub surface station like the one for Thameslink at St Pancras should be built to cater for Overground and even Midland Trains with potention to become Thameslink2 by extension on to Waterloo or Victoria with Crossrail type stations at Holborn, Piccadilly Circus and either Waterloo or Victoria.

No doubt this decision will bring ouyt the NIMBYS but so no doubt did Brunell and George Stephenson and if they had their way we would still be travelling by stage coach!!!

Britain lead the world in railways now its time to regain that crown.

One thing worth mentioning is whether we should begin by extending HS1 from Stratford to Welyn and remove the east coast bottleneck and allow high speed trains to Leeds far sooner that HS2 and thus satisfy the north.

Also Scotland should be allowed to develop its High Speed line as that would close the time gap by working from both ends.

(ps what are the odds that Midsommer Murders will feature HS2 planners killed by their Theodolites!!).