Posted 14th December 2011 | 2 Comments
Major rail schemes included in £854m DfT investment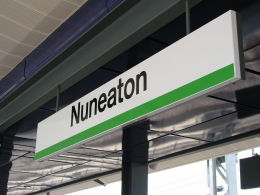 THE LONG-AWAITED Croxley rail link in Watford and an upgrade of the Coventry to Nuneaton line are among several rail projects which are included in a new collection of 21 transport schemes worth £854 million, which has been announced by the Department for Transport.
Most of the projects named by transport secretary Justine Greening are for new roads or bus-based mass transit schemes, but as well as the Watford and West Midlands rail plans there are also to be upgrades for the stations at Worcester Foregate Street, Malvern Link and Worle.
The Croxley rail link project, which it is hoped will be completed by 2016, involves diverting the London Underground Metropolitan Line branch from Moor Park to Watford at Croxley, and using a new bridge to connect it with a disused branch from Croxley Green to Watford High Street.
Metropolitan Line trains will then be able to run via the new link to Watford High Street and on to Watford Junction, which is already served by London Overground and National Rail services.
The total cost of the new link is £115.9 million, of which the DfT is to contribute £76.2 million.
The existing Metropolitan Line terminus at Watford is some way outside the town centre, and it is expected that it will be closed and the land sold for redevelopment. However, two new stations will be provided, at Vicarage Road (for Watford General Hospital) and Ascot Road. The former intermediate station at Watford West is not to be restored, because the new Vicarage Road station will be nearby.
Hertfordshire County Council has been a major promoter of the scheme for many years. County councillor Stuart Pile, who is cabinet member for highways and transport, said: "Obviously we're delighted that the Croxley Rail Link has been awarded this funding. We've all been talking about this project for many years and we're thrilled that we will finally be able to go ahead with the scheme, which will bring real economic and transport benefits to the south-west of the county.
"We know that lack of transport infrastructure is one of the things holding back economic development in the area, so investment like this will make a real difference to the local economy."
The Nuneaton to Coventry upgrade will include two new stations, at Coventry Arena and Bermuda Park, as well as improvements at Coventry and Bedworth. Other results of the investment of some £18.8 million, of which the DfT will contribute £9.8 million, will be trains running every 30 minutes -- twice as often as they do now -- and also a turnback at Coventry Arena to allow shuttle trains to serve major events there.
Reader Comments:
Views expressed in submitted comments are that of the author, and not necessarily shared by Railnews.
About 1995 it was £15m when LUL first promoted the Croxley Link. The price of delay and procrastination is a 10-fold increase in price! What was a new viaduct and upgrading a mile of operational branc line railway is now the cost of a comlpete rebuild and constructing stations to a higher access standard. Still this is a beneficial scheme.

At one time, not long ago, the cost estimate for the Croxley link was £16m.