Posted 28th March 2011 | 8 Comments
Protests after signal fault disrupted East Coast Main Line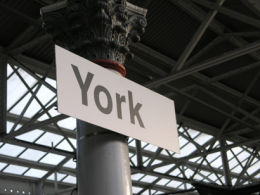 THOUSANDS of passengers had their journeys disrupted on the East Coast Main Line on Saturday, after a major signalling failure affected the York area. But operators are mainly coming under fire for not keeping their customers informed.
The problem at York panel was caused by a software fault, which led to all signals going to red between York and Northallerton.
Network Rail said ten trains were stranded in the section, five of them passenger services. Reports have suggested that 3,000 passengers were delayed.
The passenger operators affected included CrossCountry, East Coast, Grand Central and TransPennine Express. East Coast introduced a contingency timetable north and south of York and provided emergency buses.
The problem was finally cleared five and and a half hours later, at 18.30, but disruption continued during the evening, because many trains and crews had become displaced.
Network Rail said it had no reports of any problems on Sunday.
Details of the fault have not been revealed, but Network Rail said the software had not been recently installed.
Passengers involved have voiced bitter criticisms of the lack of information: one of those who had been trapped on a stalled train was described to Railnews as being 'very angry', and reports suggest that many others were also unhappy.
East Coast has apologised, saying that extra staff were sent to York to help, and that one problem had been that it did not know when the line would be reopened.
The incident was the second to affect a major signalling panel within a week. Services around Cardiff Central came to a halt on Tuesday morning after a fault with the mains supply, which was then worsened by the failure of an emergency generator.
Reader Comments:
Views expressed in submitted comments are that of the author, and not necessarily shared by Railnews.
I fail to see why East could not (or would not?) do more and off charge it to Network Rail where at the end of the day the buck will stop. It is a Network Rail fault but if EC and state owned company cannot get it right, what hope for the others?
There should be very strong and enforced penalties for lack of information and full compensation of the full fare paid (not just a portion) if delayed by one hour or more.....this may then concentrate TOC and Network Rail management minds. What of Passenger focus the passenger watch dog? -a pointless qango that should have gone with the rest of the worthless jobs for the boys. We have a rail regulator, now give him teeth that BITE HARD when thing go wrong -if he had the power of unlimited fines things might just get better for the poor suffering, paying and paying passenger.

Back in BR days, there was something called the Customer Action Team (or CAT for short) on the ECML which handled situations like this very well.

Although not delayed - We were travelling XC from Birmingham - I was most disappointed with the XC train manager. We picked up a bunch of delayed customers at Doncaster who (from their comments) had been delayed for several hours. Of course they all got in the nearest door and either stood in the vestibule or collapsed into the nearest seats... The TM insisted that the dozen or so who had sat down in (the empty) first class should move to standard class at the other end of the train where there were 'over 50 seats' - which they did with much grumbling having initially been nothing but happy to be moving. For the sake of 20 minutes he lost the railway industry a lot of goodwill...

Apologies, but what do you want from East Coast?

If they can't get coaches due to the TUC march, what do you want them to do? Pay for 1500+ taxis? I doubt it.

Everyone is blaming TOCs for lack of info, but it seems no-one bothered to look on the National Rail website which had a surplus of information, including travel via Middlesbrough.

It's always lack of information. If passengers know what is happening, then many can sort themselves out and get out of the way.

To be fair to East Coast, getting enough coaches probably was impossible as 600 or so were in London, and a fair few of them would have been from the North East.

The initial GNER would have made a much better job of looking after people.

I was stuck in Newcastle on Saturday due to this problem, all the trains I could travel on were cancelled. If the problem was corrected at 18.30, I can assure you noone in the huge queues were any the wiser because East Coast chose to keep the hundreds of people at the station uninformed.

Part of the problem at Newcastle was the fact that East Coast DID NOT PROVIDE ANYWHERE NEAR ADEQUATE COACHES (excuse given - the march in London). The advice given to come back tomorrow was just totally unhelpful as most were stuck in the middle of a jouney.

Among the chaos East Coast provided a (tiny) bag of pretzels and coffee - that was the "refreshments", they totally failed to look after or inform customers and as a fairly regular train traveller I can say this was the worse handling of a problem I have come across.

I was travelling on my own, no-one wanted to help me and as well as being freezing cold, I was becoming increasing concerned about the drinking etc going on in the station which was not being addressed by anyone. In the end I opted for a very expensive taxi to York.

Very disappointed indeed with East Coast. They need to get their contingency plans in order so problems are dealt with more efficiently next time.