Posted 25th October 2010 | 5 Comments
Through London-Highlands trains escape DfT axe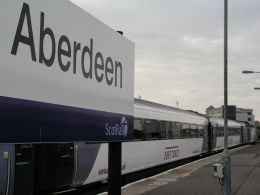 THROUGH trains between London and the Highlands of Scotland have been spared.

Transport minister Theresa Villiers has decided to reject a suggestion that trains from England should go no further north than Edinburgh.

The proposal, which came as part of the IEP report from Sir Andrew Foster, encountered vigorous opposition in Scotland.

Sir Andrew had proposed that passengers from England should change at Edinburgh on to dedicated connecting trains, preferably cross-platform, therefore removing the need for a diesel or bi-modal version of the Intercity Express on the East Coast Main Line, which is not electrified north of Edinburgh.

But the idea sparked opposition in places such as Aberdeen and Inverness, which would have lost all their daytime through trains to London.

Now Ms Villiers has yielded to pressure which included a united front from the Scottish Transport Partnerships, all of whom urged the transport secretary Philip Hammond to reject the idea.

In a statement, Ms Villiers said: "In looking at the future of the IEP project and the alternative options, it has become clear how popular these services are. We recognise the important benefits they bring, for example in connecting the north of Scotland's tourist and energy industries to the rest of the country. There are no plans to withdraw these services."

But there is still uncertainty over the future of the IEP project itself, and the Comprehensive Spending Review statement from the Chancellor provided no clarification.

It is reported that the Department for Transport has been discussing major modifications to the IEP proposals with the preferred bidder Agility Trains, which is led by Japanese train-builder Hitachi.

A consortium of Bombardier and Siemens came second place in the bidding, and was indeed asked to consider itself the 'reserve bidder', should the final negotiations with Hitachi fail.

However, the consortium was unable to comment on reports that it is now considering legal action against the DfT, on the grounds that the changes being discussed with Agility are significant enough to justify a new round of bidding.

A spokesman for Bombardier said a comment was not possible because of a confidentiality clause imposed by the DfT on all bidders.
Reader Comments:
Views expressed in submitted comments are that of the author, and not necessarily shared by Railnews.
At a time when London is gearing up for direct ICEs to Koln and beyond, the mere possibility of losing direct services beyond Edinburgh is a reminder of just what a complete strategy-free disaster is the post-privaisation railway in Britain.

Can anyone from inside or outside the industry claim any benefits to either passengers, taxpayer, or the wider economy, of continuing the current structure, funding system, strategy or lack of, and regulatory regime? Relative to the rest of Europe it's a mess from start to finish and top to bottom.

This is a vacuous discussion without knowing how many passengers per annum wish to travel between Newcastle and points south and stations beyond Edinburgh; in other words how many passengers on London to Aberdeen/Inverness stay on the train at Edinburgh. For example, we know precisely how many passengers travelled by air between London and Inverness/Aberdeen in 2009 (1,215,192); how come the figure for rail is not available as well?

The IEP in my opinion is a complete waste of money.

The excellent refurbished Mk.3/4's operated by EC, FGW and AXC illustrate that these coaches can continue in service until we are ready to order new build for HS2 services to Birmingham/ Manchester/ Leeds etc.

We will have to electrify other current lines, (GW, MML); as HS2 approaches to used the displaced Pendolinos on when HS2 services start.

We also ought to be buying, re-furbishing and re-bogying the Irish Mk.3's for growth, and consider ordering multi-purpose 125 mph diesels like the Class 67 if we think the HST class 43 power cars aren't up to it. These could then be used as un-powered DVT's.

We could ultimately save 100's of millions by refurbishment and buying 'off-the-peg' 125mph stock from existing catalogues instead of IEP.




That's a pleasent surprise.

It's a pity the government did not step in and save the Kings Cross - Glasgow through services and the 38 jobs that went with it.