Posted 13th August 2010 | 20 Comments
Test Pendolino for East Coast line raises Virgin hackles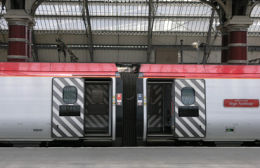 THE news that a new Pendolino may be tried on the East Coast Main Line has prompted a swift response from Virgin, which wants all the additional trains now being built by Alstom in Italy for its own West Coast route.

Directly Operated Railways, the Department for Transport company which is administering the East Coast franchise until it can be returned to the private sector, has announced that it is in discussion with industry parties concerning the possibility of commissioning a new 11-car Pendolino train on the ECML.
Elaine Holt, who is chairman and Chief Executive of Directly Operated Railways, and also chairman of East Coast, said: "I'm very pleased that East Coast has been asked to commission the new Pendolino on the East Coast Main Line. Whilst a final decision has not yet been made, if it goes ahead, the train would add extra capacity to our fleet – and we're sure our customers would appreciate the comfort and facilities that the new Pendolino has to offer.

"We're currently talking with the manufacturers and other key industry partners to understand the challenges and opportunities involved in the commissioning and certification of the Pendolino."

It is proposed that East Coast would take delivery of the train in July next year, and run it between London and Edinburgh. It would be maintained at Polmadie depot in Glasgow.

But the prospect has caused dismay at Euston, where Virgin Trains is anxious to expand the Pendolino fleet as soon as possible. It had been reported recently that the four new trains now under construction would not be brought into service until the present West Coast franchise ends in March 2012, and the prospect of a Pendolino running on East Coast ahead of time would be even less welcome.

Virgin Rail Group said: "We have no knowledge of any plans to use new Pendolinos on East Coast and have not been asked for any advice. The new Pendolinos were ordered for the West Coast based upon a robust business case and are due to start arriving in the UK later this year.

"As has already been reported, we have made a proposal to the DfT to seek an extension to our West Coast franchise and one of the many benefits would be to assist the DfT with the tricky integration of new vehicles and offering options to put the new 11-car trains into revenue earning service earlier than previously envisaged, to provide maximum capacity before and during the Olympic Games in 2012.

"We cannot go into too much detail as this is still a matter between us and the DfT, but we can confirm broadly that our plans are to put the first new Class 390 on Scotland - Birmingham services in 2011, of which many are now full and standing (nearly half of all trains on Fridays and Sundays). Then we would extend the trains to London, restoring some direct Milton Keynes - Scotland links, and free-up a Super Voyager to start a new service linking Manchester with Heathrow ( Hayes ). Another set would also enable hourly London - Glasgow services throughout the day by the end of 2011.

"Furthermore, we have developed a new business case that pays for the placing of an order for another 42 vehicles, at no additional cost to Government. This would bring the complete Pendolino fleet of 56 trains up to 11-car with 2 additional standard class coaches per set.

"We are sure the DfT will not dismiss out of hand our revenue earning proposals over an experiment on the East Coast and we are just waiting to discuss our proposals in more detail.

"Given the record rates of growth we seeing on our West Coast services (three times higher than the East Coast) we really need to get the trains and cars into service as soon as possible to handle the growing passenger numbers without worsening overcrowding."
Reader Comments:
Views expressed in submitted comments are that of the author, and not necessarily shared by Railnews.
I say leave the pendos to the west coast and use the HST and IC225's and do a utimate transformation and give them a new birth.

HST - Compleatly strip the set, add light but very strong strengthening beams around the body, lighter bogies, Add more power to the engine without being less efficient and add some traction motors on the mk3 for better acceleration, fit regenerative braking systems, sliding plug doors and LED destination displays inside and out and wolla.

IC225 - Pretty much the same as above such as adding tractions to the coaches and dvt to get harder acceleration and regenerative braking system.

If that does happend they would last another 30/40 years. In the real world passengers would think its just a brand new train and not notice how old the trains they actually are.



Just recently travelleled from Edinburgh to Birmingham and back via WCML and ECML on diesel Voyagers both ways. The Leeds-ECML route was painfully slow compared with the Carstairs-WCML route even using a diesel. Totally agree that it's insane and irresponsible running diesels under the wires. Anyone thought of running Pendolinos from Edinburgh to Euston as an alternative to the ECML? Would/could it be any faster than current ECML service?

and now, jan4th 2011 we have 2 complete "virgin" pendos sat in a shed on merseyside going no precisely where at all.

At the moment Pendolios are the only realistic way of increasing ECML capacity. There are no additional train paths and the curent trains are so over-crowded that its now a Health and Safety problem with some trains running at 175% capacity. Virgin Cross Country made the ultimate mistake of cascading their HST fleat to Midland Mainline. The loco hauls had to go because they are to slow to accelerate and lose time on long distance journey. However with East Coast HST service due to end in 2013, the HST\'S could be swapped for Arriva Cross countries Voyagers and Super Voyagers. The Voyagers could then be reconfigured to create fewer but longer Voyager sets, these would supliment a new Pendolino fleet on the ECML. Arriva would have longer trains and eart coart would have a fully tilt capable fleet. The class 220, Voyagers can easily fitted with tilt bogies and the Super Voyagers and Pendolios can already tilt. Also the ECML north of Colton Junction just south of York is already cleared for tilting trains, as when Virgin Cross Country had the Class 221 Super Voyager they tilted north of York.

The refurbished MK4s are a class act compared to the cramped, overheated, smelly, nausea inducing Pendolinos. Why would you want a narrow bodied Pendolino on the arrow straight East Coast where tilting is not required?

Considering both Voyagers and Pendo's were new designs how they have managed to make them a worse experience than MK3 in either HST or loco hauled form amazes me.
How can you make half the seats not line up with the windows??
The seats are uncomfortable, even the seats on 170s are more comfortable than 390 or 22x! !
And why on earth do we actually need tilting trains in the UK in the first place! Seems a complete waste of time and money to me, I am sure the money could have been used to increase capacity on the trains.

As for new diesel units being under the wires - comlete madness!

i think the pendos are great, they need more though, and more rolling stock

The DfT are conducting this test to see whether EC Pendolinos could replace the scrapped IEP trains.

Please replace all EC Class 91 mk4 sets with Pendolinos. Replace their HST fleet with 9 Coach Bi-mode Super Voyagers. Bi-mode would mean that the new Super Voyagers will be able to use the OHLE from Kings Cross to Edinburgh and then switch to diesel engines for journeys to Aberdeen and Inverness.

THE NEW PENDOLINOS (4) ONE A REPLACEMENT FOR THE SET LOST IN THE DERAILMENT IN CUMBRIA IN FEB 2007 AND THE REMAINING 3 ARE TOO BOOST CAPACITY ON WEST COAST MAIL LINE SERVICES. IT WOULD BE A COMPLETE WASTE OF TIME TO SPEND MONEY ON LINE UPGRADES, SIGNALING UPGRADES, TRAINCREW TRAINING FOR THESE EXPENSIVE ASSETS TO BE DEPLOYED ON SERVICES ON THE EAST COAST MAIN LINE , INDEED THE OVERCROWDED 221 (SUPER VOYAGERS) WORKING THE BIRMINGHAM /SCOTLAND SERVICES (DIESEL TRAINS) OPERATING ON AN ELECTRIFIED RAILWAY IS SHAMELESS,EVEN MORE PENDOLINOS SHOULD BE ORDERED TO REPLACE THESE AND ALLOW THE 221 UNITS TO BE CASCADED TO CROSS COUNTRY SERVICES AND OTHER TOCS TOO, THE DFT SEEMS TO BE HOPELESS AT MANAGING OUR RAILWAY INDEED INFORMED SOURCES TELL ME THE MANAGEMENT AT THE DFT ARE INDEED HOPELESS !

this is a novel idea but will i believe tell us very little we dont all ready know now,having worked on w.c.m.l.services during conversion to tilting trains i know it cost a fair bit of time and money to upgrade the whole route for the tilting trains to run at enhanced speeds so i guess for one solitary tilting train maybe a 5 or 10 mile operational tilting section may be created somewhere for a novelty but for a decent journey time improvement many millions will need to be comittede to spend on the track and of course a fleet of tilting trains

Voyagers have about 130 seats less than a 7-8 coach train they replaced.

Two weeks ago, my wife and i travelled from Edinburgh to Birmingham on one, a four car, all under the wires, on a diesel train, this makes two return trips aday, yet Branson got rid of all his electrics, and coaches, and replaced them with Voyagers.(Some of his old locos are now abroard, still doing a decent days work!)
How can the government allow this to happen. With the green house effect etc.He should be made to use electrics on electic routes.

I wrote to Virgin trains about this, and have yet to get a reply, surprise surprise!!

And I thought I was the only one who thinks Pendolinos are c**p!

More like one of Branson's old 747s -- and as for the Voyagers, let's not go there.
I'm amazed the reliable HSTs were discarded; even the old 47-hauled seven coaches were better.



The Pendolino is a wonderful train. It reminds me of the Northern Line. The Northern line stock does seem to be more capacious though...........

The Voyager's are also cramped: take a trip back in time on one of the old 125's still operating the Great Western Service London to south Wales etc. They are much more spacious.

Why dont the people who supposedly know best concentrate on relieving the overcrowding on the WCML first? They need to get the new sets out on the WCML asap and stop playing politics.
The ECML is now run by the government and already they have announced 38 job losses and have cancelled services to Glasgow from May 2011. The local MP for Motherwell raised this issue at prime ministers questions in the house of commons, before it was announced, but all he received was the usual sleazy, tofty, smart alec answer we are now accustomed to from the prime minister. He is more concerned about his image and the result of poll's, than he is of the electorate.
If a private company were to bid for the franchise and included a plan to cut jobs and services they would be laughed out the plush offices of the Dft. So why is it acceptable for the government to do so?
We now have a situation where the extra pendolino coaches are being held back from where they are desperatly needed, whilst the Dft flirts their 'possible' use on the ECML trying to entice more interest from the private sector in bidding for the franchise.
This is not acceptable and there is nothing we can do - the current operator seems to be accountable to no one.

More important issues should be concentrating minds at the DfT and EC than testing a tilting train that is more urgently required on the Birmingham -Scotland route.

Replacing their own HST's with a high capacity EMU (please not the 390!) and finding effective ways to haul these and the 91 sets north of Edinburgh should be an immediate priority.



Please keep the Pendo's away from the ECML.. They are cramped and uncomfortable. Last time I endured one out of Euston i had back ache by Rugby due to the very poor seats..


Typical of fragmented industry - allegedly better rolling stock for one line (admit it, Pendos are c-r-a-m-p-e-d) thus protests elsewhere. Oh for a sensible, rolling programme of new trains and electrification, costed over the lifetime of the assets, not the bean-counters' balance sheets..