Posted 26th October 2009 | 16 Comments
Wrexham & Shropshire claims Arriva's 'predatory' behaviour could drive it out of business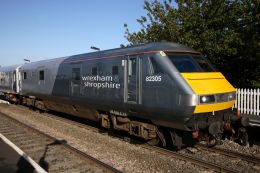 Open access operator Wrexham & Shropshire is warning that Arriva's plan to run through trains between Aberystwyth and London could mean the end of the line for WSMR. In a sharply-worded letter to the ORR, WSMR has accused Arriva Trains Wales of 'predatory' behaviour.

ATW has applied for a licence to provide two trains daily, except Sundays, and also proposes to run three on summer Saturdays next year. The services would be extensions of the new hourly trains on the Cambrian line west of Shrewsbury, using Class 158 diesel units, and run via Birmingham International, Banbury, West Ruislip and Wembley.

WSMR, which is now owned jointly by DB Regio and Renaissance Trains, is dismayed by the proposal. Managing director Andy Hamilton said: 'Considering the current revenue position of Wrexham & Shropshire and the pressure put on the business by the current economic climate, I can confirm that if the ATW 38th Supplemental Agreement is approved it is very likely that DB Regio UK will cease funding and it is likely that Wrexham & Shropshire will immediately withdraw from the market.'

In a 'supplementary note' to the ORR, WSMR went even further: 'We believe the proposal to be predatory in nature, specifically designed to put Wrexham & Shropshire out of business. This belief is supported by the very way that ATW have gone about this proposal, writing warm words suggesting that their proposal is intended to complement and support the existing Wrexham & Shropshire service when, in reality, ATW have made absolutely no effort to engage either Wrexham & Shropshire or Chiltern Railways on any aspect of the proposal or application. The only correspondence received has been a formal response to our previous concerns at the time of the initial industry consultation.'

WSMR will be operated by Chiltern Railways from the New Year, but the identity of the open-access operator will remain.

Arriva Trains Wales denied the WSMR accusations, and said that it wanted its London service to complement the WSMR timings, not compete with them. It has also amended its ORR application to remove certain stops in a bid to protect the WSMR service.

ATW commercial director Mike Bagshaw maintained that there was certainly a demand for trains between Aberystwyth and London. He said: 'Following the successful introduction of a new, more reliable Cambrian Line timetable last December, market research and our own knowledge of the local market has shown that there is a strong customer demand for a comfortable and reasonably priced direct service between mid Wales and London.
'We've received overwhelming support from stakeholders and passengers for this new service and we want to expand our network to serve new markets, creating travel opportunities. The restoration of this link would bring significant benefits to both the local economy and tourism.'


Reader Comments:
Views expressed in submitted comments are that of the author, and not necessarily shared by Railnews.
We have used Wrexham and Shropshire service to visit family in London many times and it was an excellent and punctual service. Always being able to have a seat was a great improvement on its competitors who could not guarantee even reserved seats being available for disabled passengers. This service will be greatly missed by our family members.

I could write loads on this but I feel that nearly everything has been said. I have travelled on W&S since its first week of operation and will continue to do so where 'time' allows me to, so will my wife, who works all over the world, but coming home from Heathrow would prefer to use the express link into Paddington, tube, then relax on W&S knowing that she is going to get off at home, even if she falls asleep. My daughter too, is studying to become a Vet and uses W&S to come home from London.Why,- comfort, excellent staff, good food, Now compare Arriva's North to South Wales 'Premier' Service ( for those of you who have been on it - it leaves Shrewsbury 3 minutes after the 8,07 W&S to Marylebone ) and you will see why Arriva could not compete with W&S no matter what they did. They use an old beat up loco instead of W&S 125mph capable 67, have not bothered to sort out the rolling stock and did not have the brain to use a DVT for push -pull operation so that they had to say that due to operating difficulties could not bring the Train from Chester to Shrewbury via Wrexham - going by that rubbish I am glad that they were denied running rights from Pwllheli/Aberystwyth. - If the gauge is right , perhaps W&S should counter by themselves running out of the Cambrian to London - what a thought

I live in Llandrindod Wells so unfortunately the W&SR service is of no use to me because Arriva Wales trains from the Heart of Wales Line do not connect with any W&S services at Shrewsbury.

The sensible option is for W&SR to operate and intergrate the proposed Aberystwyth to London service with the present Wrexham/Shrewsbury Marylebone service, joining and dividing trains at Shrewsbury.

I agree that the franchise system is too inflexible. The way forward is to allow cooperation between train operators to provide more through journeys without change of train, and partnership with 'Network Rail' to provide the line capacity.


W&S are the only way to travel from Wrexham and surrounding areas to London and who wants to traverse the platforms of Wolverhampton or Birmingham New Street to find their train when you can just get on in Wrexham and get off in London + if you do advance bookings you can travel 1st class for £55.00p single! and what a journey that is ! it is fantastic ! - I have just returned from a weekend in London - travelling on W+S + it was a lovely.I have travelled all over the world on many different carriers but I will not travel on any other train than W&S

WREXHAM AND SHROPSHIRE OFFER GREAT SERVICE, FRIENDLY, CLEAN AND VERY COMFORTABLE. IF THEY ARE DRIVEN OUT OF BUISINESS I SHALL BE TAKING MY CAR TO LONDON AND WILL NOT BE TRAVELLING FROM NORTH WALES TO LONDON IN UNCOMFORTABLE CARRAIGES BELONGING TO ARRIVA.LETS KEEP THE BRILLIANT FRIENDLY SERVICE GOING.
AND KEEP A BIT OF ROMANCE IN TRAIN TRAVEL

I personally love W&S and I completely agree with others in regards to the service and staff. I had a fantastic time and I'm planning to use the service on monthly bases to escape from the city life.

I've never been on the MK3 coach and it was better than I expected.

All this emotive nonsense about old 158's..... er how old are the Mk3 carriages?! People look at cost and time and many simply don't want to change. Why would you change at Shrewsbury onto W&S when you can change at Birmingham to the faster Virgin service? People from Aberystwyth and elsewhere on the Cambrian will value the ability to travel through without changing. You'd be surprised how many people really dislike having to change trains. Sure some will still prefer to change at Birmingham, some will prefer to use W&S, but I bet quite a few will want to travel through, 158's are to be refreshed. Its all about choice.

Didn't ATWs Mr Bagshaw once work for Chiltern, WSMR's partner?
Predatory indeed.

And Phil Beard is right - who on earth wants to travel from Aberystwyth to Marylebone in a 20 year old, 90mph class 158 which is more suited to third world standards of travel.

The target markets of the two companies are completely different. Arriva TW are targeting people going end to end (West of Shrewsbury), replacing the Aberystwyth to London service that Central Trains withdrew in the late 90's, whereas WSMR are targeting customers from North of Shrewsbury not West of Shrewsbury. Due to capacity issues on the alternative route from the Midlands to London Arriva would be forced to use a similar set of stops to WSMR. If extra revenue could be generated by stopping at stops south of the Midlands any company would want to do it.

Presumably MK3s and 67s are too heavy to send up to Aberystwyth? But if not - a counter bid from W&SMR?. Joking apart, both W&SMR and ATW are good companies - if only the franchise system could allow logical collaboration then we would see even interval services to new places by either through train, or at most one change in Shrewsbury.

I think Wrexham and Shropshire having nothing to fear, the coaches they use are much more comfortable than arrivas class 158, if i was travelling to London i know what service i would use!!!

W&SMR are brilliant. I have been traveled few times and I am totally agree!
Their staff provide personal attention for each passenger. They have 7 year track access agreement since Jan 2008 and hope to be able save their business. In other case UK rail passenger market will become more and more monopoly with low level of quality like in Eastern Europe.

W&SMR are brilliant. Don't know why anyone from the Cambrian mainline would want to stay on a 158 all the way to London when you can change at Shrewsbury and travel behind a 67 or DVT. No unit rubbish!!

WHY DOES'NT WREXHAM & SHROPSHIRE REBUILD THE LINE TO TWO TRACKS TO WREXHAM & CHESTER & ABERYSTWYTH FOR LONDON & CROSS COUNTRY TRAFFIC & ELECTRIFICATION TO OXFORD & CARDIFF & WARRINGTON & MANCHESTER FROM CHESTER & SHREWSBURY!!!!

Lay off Wrexham and Shropshire! Great service . Great staff.

Anyone who wants to travel that far in a class 158 dmu needs their head examined and W&S are better off without them!