Posted 31st March 2009 | 2 Comments
Holt to quit First Capital Connect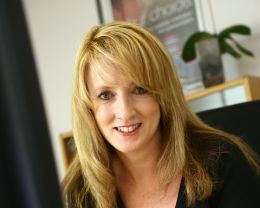 ELAINE Holt is to step down this week as managing director of First Capital Connect to pursue other interests, after 10 years with FirstGroup.

No reason has been given by FirstGroup for Ms Holt, 42, leaving the multi-national rail and bus group which is headed by Sir Moir Lockhead.

She joined First Great Western in 1999, became bid director for the Group's rail business in 2004, and went on to lead its successful bid for the First Capital connect franchise.

Among Ms Holt's achievements are improving FCC's Public Performance Measure to over 90 per cent of trains arriving on time – a record for both Thameslink and Great Northern routes – and leading successfully the first phase of the Thameslink expansion programme which will ultimately mean new train services with a new fleet of trains.

Only last month she praised other operators for helping out with extra trains for the Thameslink route after the building of a new fleet of Electrostars was delayed.

In September last year during an interview with Railnews Ms Holt, who has a home in Oxfordshire, warned that the economic situation would have an effect on City bound commuters using FCC's Thameslink services and that passenger growth was slowing.

Jim Morgan, FirstGroup's development director, rail, who sits on the boards of FCC and First ScotRail, has been appointed to Ms Holt's role on an interim basis.

She is the third high profile figure to depart First Group in the past six months. In November last year Andrew Haines, who was head of the group's rail division, quit due to ill health.

It has been reported that Alison Forster, previously managing director of First Great Western, and more recently safety and performance director for the rail division, has also left the company saying that she wishes to look to the next stage of her career.
Reader Comments:
Views expressed in submitted comments are that of the author, and not necessarily shared by Railnews.
I'd like to wish Elaine Holt the very best of luck in her new role at East Coast.

Back in the 90's, I had the pleasure of working at Edinburgh for InterCity/GNER & I know just how difficult it is to keep everything running smoothly, on time, meeting & hopefully exceeding the customers expectations.

I'm sure Ms Holt, is entirely dedicated to providing the very best of service for passengers & will do everything in her power to improve & build upon the allready excellent East Coast service.

If anyone has the desire to see East Coast transformed into the modern high speed service (on a par with our european neighbours) we all hope for, then I'm sure Elaine Holt is that person.

Interesting times ahead,

GOOD LUCK !

I'm not entirely sure what to make of this news. I travel with FCC and they have improved the service (e.g. good performance, refurbishments, good staff) but they also screwed a lot of people over (e.g. car park charges, the student ticket fiasco). It's a shame, since FCC are weeks away from some massive changes such as the new trains and timetable. Good luck to Ms Holt.