Posted 4th February 2009 | 3 Comments
Severn Tunnel Junction: From sleepy halt to centre of high-speed city connections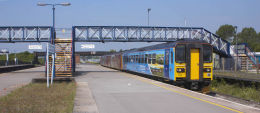 The disused platform to the right of the train in this view will be brought back into use for trains to Bristol.
NEW crossovers, an improved layout and an additional station platform are about to bring Severn Tunnel Junction into the 21st century, as Network Rail continues its £400 million South Wales resignalling.

The junction, where the Birmingham-Cardiff line joins the South Wales main line from Paddington, neatly illustrates recent changes in British rail traffic. The marshalling yards have vanished but the station, once a sleepy wayside halt, is now a popular park-and-ride facility for people working in Cardiff and Bristol. It even has its own, vociferous, passenger action group.

Two or three local trains call there each hour. Many others pass without stopping, including freights and half-hourly London-South Wales HSTs.

To reflect its new lease of life, Severn Tunnel Junction will be remodelled in the £150 million first phase of the Newport Area Signalling Renewal.

The current layout is a relic of an age when efficient reception and dispatch of freights was an operating priority. Westbound trains from Bristol and London cross the up Birmingham line on the flat between the tunnel and the station.

The new layout will move the junction west of the station, where there is more space for high-speed turnouts.

A now derelict platform will be restored for trains to Bristol, and the station's passenger facilities and parking will be brought up to current standards.

"We're bringing 198 metres of platform 4 into passenger service," says Andy Bateman, senior project manager for the South Wales resignalling scheme."

Most of the new layout will be installed during a Christmas 2009 blockade. Both the South Wales main line and the diversionary route via Gloucester will be unavailable for a period that coincides with the annual suspension of services over Christmas.

Andy says: "We're looking at 24 December to 4 January when installation of the new layout and signalling system will take place."

All of the gantries have already been installed for the first phase of resignalling. Atkins is handling de-sign, installation, testing and commissioning of the new signalling. Amey is providing its new power supplies.

New turnouts assemblies have been delivered to Severn Tunnel Junction. They will all conform to the new in-bearer clamp-lock design, even where older designs would suffice, because 'human factors' research has shown it is easier for the local workforce to maintain a uniform design, and potential con-fusion between different designs is eliminated.

The first phase of Newport Area resignalling extends from Patchway, in England, to Marshfield, between Newport and Cardiff. It is due to finish by the end of 2010.

Work in Newport itself will include single-tracking Maindee East Curve, where freights from the Bristol direction can access the line to Hereford. Signal sighting will be improved there, enabling line speed to increase.

Improved entry and exit to East Usk Yard (east Newport) will ease congestion. Network Rail is establishing an improved distribution centre west of Newport for works trains, spoil, track, sleepers and ballast.

At Newport station, the western throat has been simplified, with a redundant parcels siding removed. The new platform 4 is currently used by some local trains, but Network Rail plans to make it the platform for departures to London. That requires construction of a new entrance facility beside the car park at the station's west end.

The Welsh Assembly Government pledged £8 million towards the planned £22 million Newport station improvement and work is due to begin this month, once designs are confirmed.

The WAG is also providing £2.6 million for a new crossover at Gaer Junction, to be used by future passenger services to Newport from the reopened Ebbw Vale branch.

Resignalling around Newport is the second stage of the overall South Wales project. The first, between Port Talbot and Bridgend, finished in spring 2007. Andy Bateman says some members of his Newport team have been involved in both stages, bringing a wealth of experience.

"We have a multi-disciplined team which is delivering Newport Area resignalling and will then go on to deliver Cardiff Area. They are dedicated to the resignalling of South Wales for the next control period, over the next five to six years."

Before and after the Cardiff re-signalling, there will be two further phases of work around Newport, tackling the area's secondary routes.

Signals included in Phase 1 of the Newport scheme will be the first to migrate into the South Wales Control Centre, due to open this spring near Cardiff Central. Newport signalbox will close when Phase 2 finishes in late 2011.

The new control centre is built on a strip of railway land near the eastern end of Canton depot, on the opposite side of the main line. It took seven months to clear old buildings from the site and to eradicate the scourge of Japanese knotweed, a plant that is so invasive it can grow through concrete.

Once up and running, the centre will house signallers and controllers from Network Rail and Arriva Trains Wales under one roof.

Other sections of the South Wales region network will transfer to the new centre at Cardiff as resignalling progresses.

Newport resignalling: Where the £150 million will go:
Phase 1: Completion – late 2010
Signalling equivalent units – 375
Gantries – 22
Cantilevers – 9
Straight posts – 59
Signal heads – 162
Loc cupboards – 221
Point ends – 144
Principal supply points – 10
Relocatable equipment
buildings – 16
Under track crossings (UTXs) – 14
Staff – approximately 300 (NR and contractors)

Phase 2: Completion – late 2011
Signalling equivalent units – 81
Reader Comments:
Views expressed in submitted comments are that of the author, and not necessarily shared by Railnews.
Great news to hear of the upgrading for this railway unit but when I worked at the station in the fifties it was anything but a sleepy halt. Car transportation to Pilning; parcel reception and delivery; pigeon releases; workmen off to Newport and Filton; Speedway fans, soccer fans, heading to Bristol; and many office workers heading to Newport helped to create bustle.
As for Luke Deardon's comment it reminds me of the impression I came away with at the York Railway Museum. A great deal of effort is made preserving the locomotives and this should be commended but there is much more to railway history that needs to be preserved. Government should at least .help private agencies in preserving examples of marshalling yards, communication and track signalling systems.
( It was at STJ that I met a clerk, who had operation a needle system for sending morse code.)
(

It is good to see the railways constantly improved to meet the changing needs of the modern railway, but I often regret the lack of operational flexibilty imposed when junctions and lines are over simplified for economic reasons.

my family have been on the railway for years, my great grandfather helped build severn tunnel, although the new signals are modern i do hope the old semaphores will be kept in some parts like abbercavenny, i think the railway companys of today have forgtton our history and the fact that we invented the railways. i think we need to keep the history alive by simply electrfication of the old signals. as far as new stations go they are way to modern iam 19 but railway station design of today is ugly compared to that of the 1900;s. i think that the stations should be built in the old stlye but with modern extras to keep are history alive. one other thing the old 4 aspect signals, can you donate thease signals to preservation railways as thease would come of great use and of course are a part of railway history.