Posted 5th August 2008 | 1 Comment
Consortium voices concerns over Crossrail £billions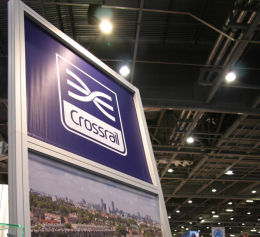 "This landmark project is of major significance to London and the whole country."
SERIOUS questions have been raised over how exactly funding will be raised for the £16 billion London Crossrail project, following the granting of Royal Assent for construction work to start.

The British Retail Consortium is calling on the Government to provide more information that would clarify the contribution of businesses to the huge rail project.

The Government has indicated that the costs of the project will be met by roughly equal contributions from three sources – taxpayers, fare-payers and the London business community.

The BRC adds that it understands the City of London and large developers will contribute a portion of businesses share.

It appears that the majority of this contribution will come from a new Business Rate Supplement, which will be charged on all businesses in London with a rateable value of over £50,000 – but businesses say they are being denied the facts, because the BRS Bill is not likely to be introduced before autumn at the earliest.

The consortium wants to know what proportion of the private sector contribution has already been secured from the City and large developers, and how the shortfall will be made up. It also wants to know for how long the business rate supplement will have to be paid.

BRC director general Stephen Robertson said: "This is a much needed and long overdue project. But we have serious concerns about the continued absence of detailed information on how much of the costs businesses will have to pay."

According to one report, the Department for Transport will be putting up £5.1 billion of taxpayers' money, while £7.7 billion is due from the Greater London Authority and Transport for London.

Some £3.5 billion is due from the business rate supplement, £300 million from developers and £300 million from a new statutory planning charge.

But there are concerns that money diverted to Crossrail will mean less money spent on the London Tube system.

Meanwhile, Royal Assent for the Bill was given on Tuesday 22 July with a visit to Liverpool Street station by transport secretary Ruth Kelly and Mayor of London Boris Johnson.

The new line will run from Maidenhead and Heath-row Airport in the west to Liverpool Street, Whitechapel, Canary Wharf, Shenfield and Abbey Wood in the east.

The link will tunnel under central London with new stations at Paddington, Bond Street, Tottenham Court Road and Farringdon. Main construction work is set to begin in 2010, with opening in 2017.
Services will be provided by a new and dedicated fleet of some 600 air-conditioned carriages.

Ms Kelly said: "This landmark project is of major significance to London and the whole country. It will generate jobs and economic growth, help revitalise some of our most deprived areas and deliver major improvements for the travelling public."
Reader Comments:
Views expressed in submitted comments are that of the author, and not necessarily shared by Railnews.
You state " SERIOUS questions have been raised over how exactly funding will be raised for the £16 billion London Crossrail project, following the granting of Royal Assent for construction work to start."


INDEED!

For 56 months, the KHOODEELAAR! constitutional, legal, economic, environmental, social and ethical campaign against the crassly conceived, crassly peddled, irresponsibly promoted Crossrail hole agenda has argued that the package was wrong. That the economics and the ordinary London public did not demand the spending of £Billions of public money into a diversionary 'project' like Crossrail. That the EXISTING transport and associated infrastructure in London linked with higher capacity and relevance deserved to be paid attention to.... That uttering slogans like 'world class city' did not deliver the service for the people who need that. There has been no scrutiny of the purpose, the content or the implication of the Crossrail Bill during the almost cultish passage of it through the two Houses. HUNDREDS of objectors were OBSTRUCTED from presenting evidence before either House to show how seriously flawed the Bill was.... No economic study was conducted to answer the dozens of profound questions that are attached to the proposed scam... The hyped up lie that the scam would 'bring benefits and regeneration' to areas like the 'deprived East End of London' is instantly contradicted by and exposed in the real purpose as stated by the promoters and the lobbies which is to connect three places Canary Wharf the City of London and Heathrow.... Is that a justifiable ground to spend [mis-apply] £Billions of pub;ic money on the scam for? In any case, ALL the references to positive impact of the CRASSrail are projections... NOT one item of evidence has been referred to in the [just under] 4 years of the Crossrail Bill being promoted through Parliament that has shown any evidence of any public demand from any part of London for the scheme.. THERE HAS BEEN evidence of the insidious Big Business lobby calling for it.....Time to look for a proper project for London';s transport needs and for the scarce money of the public to be sued... Scrap Crossrail even now...

Not too late at all..

Not especially for the hundreds of small traders in the Brick Lane, Whitechapel, Bethnal Green 'south' and Stepney London E1 area who have signed the Khoodeelaar! constitutional law challenge papers against Crossrail hole agenda....

We are mounting the long promised legal action against the Crossrail hole agenda and we have on our list a most diverse and extensive list of witnesses who will support the challenge to Crossrail through the court system in the UK and then in the European courts system if necessary.

Organiser,
KHOODEELAAR! No to "Crossrail hole plot.." CAMPAIGN