Posted 15th February 2008
Deutsche Bahn buy Chiltern Railways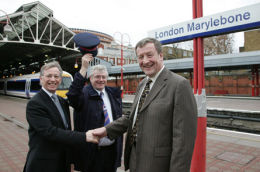 From left to right: Dr Karl-Friedrich Rausch, Member of the DB Management Board and Chairman of the Passenger Transport Division; Geoff, CSI inspector and Adrian Shooter, Chairman.
Updated: 18th February 2008 15:58
Chiltern Railways, which was voted the UK's top passenger rail operator last year, is to come under German ownership.
In its second significant move into UK rail operations within weeks, German rail operator Deutsche Bahn AG has signed a purchase contract to buy Laing Rail, owners of Chiltern Railways.
Late last year DB became owners of freight giant EWS, which has recently been re-structured into four main divisions.
Laing Rail Ltd owns 100 per cent of M40 Trains, which in turn owns the Chiltern Railway Company. The purchase of Laing Rail for a reported £127 million means that the German operator will have a foot in the door of two other UK rail passenger operations in addition to Chiltern Railways.
In a joint venture with the MTR Corporation, Laing Rail also owns 50 per cent of the new London Overground Rail operations.
Its third interest is 50 per cent of the new Wrexham, Shropshire and Marylebone Railway, a joint venture between Laing and Renaissance Trains. Services are due to start operating this spring.
The deal ends months of speculation since July last year when construction company John Laing put its rail operation, Laing Rail, up for sale. Under the new ownership – which has to have legal consents from the Department for Transport, Transport for London and the Office of Rail Regulation – staff at Chiltern Railways, which runs train services between London Marylebone and the West Midlands, are unlikely to notice many changes.
Adrian Shooter, the company's chairman, will continue to lead the same management team from its Aylesbury base. Staff will wear the same uniforms and train liveries will not be changed.
But Mr Shooter told Railnews during a press briefing at Marylebone: "There will, over time, be no doubt that DB staff and Chiltern Railways staff may take part in exchanges, so that they can gain experience of how the different operations work and share best practice."
The staff of Chiltern Railways will become part of what is known as DB Regio AG, which provides regional and local bus services in Germany. It has 25,700 employees running 22,581 trains a day, carrying 3.3 million passengers.
State-owned Deutsche Bahn AG was founded in 1994 following the merger of the former (West) German Bundesbahn and (East) Reichsbahn and is now Europe's biggest passenger rail operator and the second largest freight operator.
Asked why DB wanted to move into UK rail and particularly Chiltern Railways, Dr Karl-Friedrich Rausch, head of DB's passenger services, said: "Chiltern is a highly successful company with an outstanding track record. It has promising future growth expectations underpinned by the long franchise of 20 years and prosperous growing markets.
"This involvement in the UK fits perfectly with our strategy, and everyone involved benefits.
"Chiltern, London Overground and WSMR will obtain stable prospects for the future, either completely or partly due to their becoming part of the DB Group.
"Besides Germany, the UK is one of the most liberalised rail markets in Europe. It is only logical therefore for us to become established in this market."
He didn't rule out the possibility of bidding for other UK franchises.
Meanwhile, the acquisition of Laing Rail by DB may lead to more investment in track and train capacity on the Chiltern Line.
In the past few years Laing Rail has worked with Network Rail on Project Evergreen to double-track parts of the route and modernise signalling and stations.
Chairman Adrian Shooter told Railnews: "I have little doubt that future capacity will be one of the things we will be discussing to enable the future growth, revenue and profitability of this business."