Posted 26th January 2022 | No Comments
RMT warns of effects of 'soaring' inflation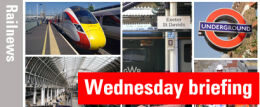 RMT warns of effects of 'soaring' inflation
Train cleaners working on West Coast services are staging a strike over pay, as cleaners on four contracts in the south east are also being balloted for walkouts. Their union the RMT has warned that 'soaring' inflation means that cleaners are more than £1000 worse off in real terms than they were a year ago. RMT general secretary Mick Lynch said: 'Many workers have been hit by a double whammy of pay freezes and soaring inflation and no more so than those who were already on low wages. It's a national disgrace that so many of these workers, clapped, praised and glad-handed by the great and the good are now expected to put up with pay cuts that leave these already low-paid workers struggling to make ends meet.'
Former transport secretary confirmed as TfN chair
The North's political and business leaders have approved the appointment of Lord McLoughlin as the next chair of the Transport for the North Partnership Board. Patrick McLoughlin was the MP for Derbyshire Dales from 1986 to 2019, and was transport secretary between 2012 and 2016. Since then he has spent two years as chairman of the Conservative Party. He will replace the interim chair, Cllr Louise Gittins. She said: He has a wealth of experience in transport and the public sector, which I know will put him in good stead for this challenging and important role.'
Network Rail makes urgent viaduct repairs
Urgent repairs are being carried out on Reddish Vale viaduct in the Tame Valley after a routine inspection revealed that that fast-flowing water from the River Tame had washed away the river bed. Some 2,500 tonnes of rock armour are being installed to protect the viaduct foundations. Network Rail said 'the immediate repairs will make sure the foundations are not at risk of erosion and trains can safely travel on the Hope Valley line for years to come'.
Cycle boost at Cambridge station
Greater Anglia has welcomed funding of £530,000 which will pay for improvements to Cambridge station's Cycle Point bicycle park. The upgrades will include better CCTV, secure access compounds and more accessible areas. The money has come from Sustrans, in partnership with Brookgate, Cambridge City Council and the Greater Cambridge Partnership. The improvements have been developed in consultation with the Cambridge Cycle Point task group, and Greater Anglia said work can now start.