Posted 21st January 2022 | No Comments
Your attention, please: this announcement has reached the end of the line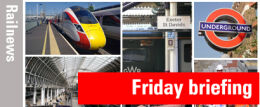 Your attention, please: this announcement has reached the end of the line
Repetitive and unnecessary announcements on trains are to be cut back in a 'bonfire of banalities', according to the transport secretary, who says the almost continuous loudspeaker chatter on trains is to be stripped back, leaving only essential statements about safety and accessibility.
The Department for Transport said it had worked closely with the Rail Delivery Group, individual operators and transport watchdogs on a review of unnecessary announcements, and its conclusions will be put into practice over the coming months. The DfT said 'self-evident' instructions are high on its proposed banned list, such as telling passengers to have their tickets ready when they leave the station, and 'contradictory calls for passengers to keep volume levels low while onboard announcements blare out'. The frequency of surviving announcements will also be cut back.
Transport secretary Grant Shapps said: 'Train passengers are all too often plagued by an endless torrent of repeated and unnecessary announcements. In line with the passenger improvements we are rolling out with our Plan for Rail we want to see improvements to the railways for those who use them day in day out. That's why I'm calling for a bonfire of the banalities to bring down the number of announcements passengers are forced to sit through and make their journey that little bit more peaceful.'
Liberal Democrat and former rail minister Norman Baker, who is now an adviser at the Campaign for Better Transport, has welcomed the review. He continued: 'What is the point of telling passengers a particular set of doors doesn't open as the train is leaving the station? Or inviting passengers to inspect the safety card at the end of the carriage? Has anyone ever done this? Or announcing that you are in a quiet carriage – now no longer quiet. Rail is a supremely green way to travel. At its best, it is also relaxing and enjoyable and allows travellers to make good use of their time. This move will make rail a more attractive option.'
LNER to restore full timetable
The timetable on LNER will be restored to its normal pattern next month, after cuts had been imposed as a result of staff going sick with Covid or self-isolating. The operator said a full timetable would be provided once again from 14 February. After that, the only changes would be caused by engineering work.
Greater Anglia recovers more than £4m from fraudulent travellers
Fare evaders and other fraudulent passengers paid over £4 million to Greater Anglia in 2021 in fines from fare evasion and repayments for claiming compensation or refunds for journeys they didn't make. The total of £4.17 million includes £1.63 million from prosecutions and £1.79 million in fraudulent claims via third parties, such as ticket resellers. Revenue protection officers issued over 54,000 penalty fares in 2021, to the value of £1.63 million, while Greater Anglia's fraud department uncovered £451,184.16 in fraudulent delay claims, where passengers had claimed delay repay compensation for journeys they hadn't made. Head of revenue protection Kim Bucknell said: 'People not paying for their journeys or fraudulently claiming delay repay compensation or refunds for journeys they haven't made are effectively stealing from Greater Anglia. It's not acceptable – it's the equivalent of going into your local supermarket and either not paying for your shopping or only paying for some of it. The railway is now funded by the Government – and ultimately the taxpayer – so not paying for a ticket or making a false delay repay claim is effectively stealing from other taxpayers.'