Posted 14th May 2021 | No Comments
First of new West Midlands trams arrives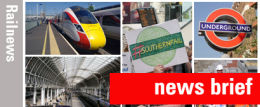 THE first of eight additional trams for West Midlands Metro has been delivered from Spain.
Five of the eight CAF trams will be needed later this year when extensions open in Birmingham and Wolverhampton, and have batteries as well as a conventional pantograph so that they can run on sections where there are no overhead wires.
A further 13 trams will be delivered in 2023 before the opening of the further Metro extension between Wednesbury and Brierley Hill.
Newly re-elected West Midlands Mayor Andy Street said: 'These are incredibly exciting times for the Metro in the West Midlands, as we undergo a huge expansion of the network after decades of under investment.
'With the extension to the Westside of Birmingham nearing completion, and diggers in the ground on both the Wednesbury to Brierley Hill and Birmingham Eastside extensions, it is clear we are going to need significantly more trams in service as we attract more and more people on to the Metro.'