Posted 11th March 2021 | No Comments
Passenger figures rose towards end of last year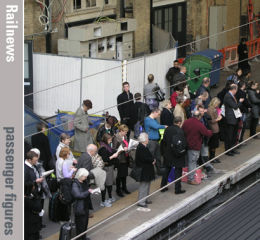 THE number of people travelling by train rose during the last three months of last year in spite of the renewed lockdown in November, according to new figures released by the Office of Rail and Road.
Journeys made using season tickets were up to 23 per cent of pre-Covid levels, amounting to 36.4 million compared with 15.1 million during July, August and September. However, the pre-pandemic total for October-December 2019 had been 156 million.
When all types of ticket were taken into account, the number of journeys (counting each train used during end to end trips involving changes) in October-December 2020 was 140 million, which was about a third of the equivalent figure of 463 million in the same period in 2019.
Passenger revenue in Britain for October-December 2020 was £641 million, or 23.8 per cent of the £2.7 billion collected in the same quarter a year earlier.
The ORR's director of planning and performance Graham Richards said: 'Passenger numbers were slowly rising in Q3 compared to the first quarter of 2020-21, which saw the lowest levels of usage seen since the mid-nineteenth century.
'Season ticket usage also increased and this could have hinted at a more regular return to work for some commuters, and students travelling to schools and colleges.
'When passengers do slowly return in 2021, it is important that the rail industry maintains the good punctuality we've seen recently and provides clear and accurate information to help passengers plan and make journeys with confidence and ease.'