Posted 11th November 2020 | No Comments
More operators trim their timetables in response to lockdowns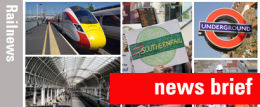 MORE train operators are planning to reduce their service levels in response to continuing Covid restrictions.
Reductions are expected on ScotRail from 13 December, when it is proposing to withdraw around 270 trains a day, or some 10 per cent of the pre-Covid service. Some reductions have already been made, and the result will be that one in five services have been trimmed from the full timetable.
ScotRail said additional units will be used to form some trains, so that capacity on board each service is maintained to allow social distancing.
The proposals have yet to be confirmed.
ScotRail operations director David Simpson told The Scotsman: 'We are currently in the process of looking at a revised timetable [which] better reflects the reduced demand and changing nature of travel in Scotland and the need to ensure value for taxpayer money.'
Meanwhile, Caledonian Sleeper will withdraw its 'Highlander' Aberdeen and Fort William services from tonight until 6 December, and LNER is also set to thin out the frequencies of its services from Monday 16 November, when nine trains will be withdrawn from next Monday, 16 November.
Graham Kelly of Caledonian Sleeper said: 'We will continue to run a core service to support those guests who have essential travel requirements, while taking into account the welfare of guests, staff and industry partners. We look forward to welcoming our guests back on board in due course.'
Avanti West Coast had already said it will be reducing the frequency of its services on the routes between London and Birmingham and London and Manchester from three to two trains an hour, starting on Saturday. Merseyrail is also reducing the frequency on its Southport line to half-hourly, again in response to falling demand during the latest English lockdown.
Have Your Say