Posted 22nd October 2020 | 4 Comments
More cash for trams and light rail in England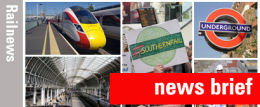 ENGLISH tram and light rail systems outside London are getting more financial help, as passenger revenues continue to sag as a result of coronavirus restrictions.
The latest award from the Department for Transport is worth up to £67.8 million, bringing the total funding for trams and light rail to more than £160 million since the pandemic began.
Local authorities and operators in Sheffield, Tyne and Wear, Nottingham, the West Midlands, Manchester and Blackpool are set to receive up to £35.4 million over the next 12 weeks. Up to a further £32.4 million will then be available subject to a government review which will examine how local authorities are planning to balance their transport books by March next year.
Light rail minister Baroness Vere said: 'Trams serve as a vital link for communities in the North and Midlands – whether it's to get to local shops, school or work, we know many people rely on these services every day.
'That's why we're continuing to fund services so that they can operate safely during the pandemic. Passengers across the North and Midlands will continue to have access to the services they need.'
Meanwhile, the increasingly angry debate over Transport for London's funding, including TfL trams, is continuing, and there has been no resolution so far.
Reader Comments:
Views expressed in submitted comments are that of the author, and not necessarily shared by Railnews.
In Oxford roads that are closed to traffic but open for buses, also roads designated for pedestrians could have trams or light rail which will serve the local shops which have been suffering from footfall since.
Some of the roads into oxford are very rough and makes an uneven ride on the buses so a tram journey would be a smooth ride for locals and visitors.


When are Merseyrail going to get some government cash, They seem to have been left out of any government support scheme for some reason,theyre still running trains that are punctual, with most booking offices and all stations open, yet this lot of wastrels in power seem to be deliberately ignoring a well performing TOC.

Could other UK cities such as Brighton, Norwich, Oxford, Derby, Exeter, Bristol, York, Cardiff, Swansea, Portsmouth, Southampton, Coventry and Leeds could possibly have plans to have trams and to replace buses to cut down on Co2 emission carbon footprint. Or is that not possible for those cities to have trams.