Posted 13th May 2020 | No Comments
13 May: news in brief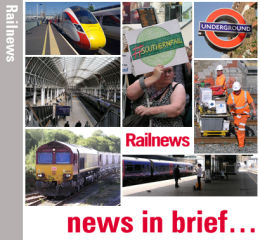 Shock at death of Victoria staff member from Covid-19
THE general secretary of TSSA Manuel Cortes has spoken of his union's 'shock and devastation' after a man spat at a member of staff at London Victoria who later died from coronavirus. The incident happened on 22 March, when 47-year old Belly Mujinga and a colleague were abused by a man who said he had Covid-19. Both of them developed the disease, and it has emerged that Belly, who has an 11-year old daughter, died in Barnet hospital on 5 April. British Transport Police and the ORR Railway Inspectorate are understood to be investigating.

MTR European chief to step down
THE chief executive of MTR's European operations Jeremy Long has decided to retire, and his last day in the job will be 30 September. He has been in the post for 15 years, having joined the Hong Kong-based company to set up its European operation. MTR has been involved in several British ventures since then, including London Overground and now TfL Rail and the future Elizabeth Line. It has also been active in Sweden as the operator of the Stockholm Metro. Before he joined MTR in 2005 Jeremy Long had been a key figure in GB Railways Group, which was the operator of Anglia Railways between 1997 and 2004.