Posted 21st October 2019 | 4 Comments
21 October: news in brief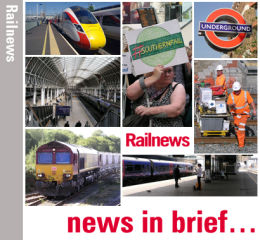 First Azumas run from Lincoln
MOST trains from Lincoln run by LNER will be worked by Hitachi-built Azumas from today, and the inaugural Azuma service leaves Lincoln at 11.18. Services between Lincoln and London also being boosted at the same time from one through train a day to five, with six by the end of the year. For the time being, there will be four new services using Azumas. A fifth will consist of the established HST which leaves Lincoln at 07.30 each day and returns from London King's Cross in the evening. LNER commercial director Suzanne Donnelly said: 'We're thrilled that Lincoln is the first destination along our route to benefit from additional services with our new Azuma fleet. This marks an important moment for the city. The new services provide significantly more opportunities for business travel, tourists and international visitors wanting to experience the many historic and cultural attractions Lincoln proudly offers, including the cathedral, castle and magnificent views from the medieval wall.' The remaining HST will be replaced by an Azuma later this year, and additional weekend services will also be introduced in December.

Call for lower fares for Pacer passengers
SENIOR politicians in the north of England have told Northern that passengers who must still travel on Pacer trains should have their fares reduced in compensation. The mayor of Manchester Andy Burnham, Sheffield City Region mayor Dan Jarvis and Leeds City Council leader Judith Blake say the continuing use of Pacers into the New Year is 'unacceptable'. All the Pacers should have been withdrawn by the end this year, but Northern has conceded that a few will have to stay on for a few weeks longer while new trains are commissioned. The letter says: 'As we are forced into accepting the temporary retention of Pacers, we expect you to commit, as a matter of urgency, to appropriate financial compensation to the passengers affected.' Northern responded: 'As a result of further delays in the construction and delivery of our new trains from manufacturer CAF, a small number of Pacer units will need to be retained for a short period of time in 2020 to deliver the planned daily timetable with the right capacity for our customers. This situation is not unique to Northern. The introduction of new trains from July meant the first Pacer was retired in August, with the majority of Pacers still planned to be removed by the end of this year.'
Reader Comments:
Views expressed in submitted comments are that of the author, and not necessarily shared by Railnews.
Can't wait to use the new Lincoln service for myself next week!

No additional paths have been required on ECML as the Lincoln services are extensions of the previous Newark terminators/starters. Have been long promised under the previous failed franchises but now eventually delivered given the availability of suitable rolling stock. In the modern railway delivery within a decade a first proposal has to be seen as rapid progress!



Pleased to see Lincoln getting more King's X services, but does this mean the ECML has to find 5 extra paths per day, in each direction?

As the principal main lines "fill up"to full capacity , could it be considered as a way of giving more through trains from smaller provincial centres to London to run 5 car units ( Azumas, for example) in multiple, so a single main line path can give service to 2 or maybe even 3 separate destinations, with trains dividing / combining at " nodal points" , such as Granthem, York, Crewe, Preston, etc?