Posted 18th September 2019 | 2 Comments
New power research to be aided by veteran train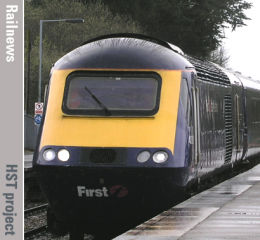 A VETERAN train which was built by British Rail around 40 years ago is to play a key part in research into alternative power sources.
Porterbrook is leasing a redundant diesel High Speed Intercity 125 set to the University of Birmingham, where it will be used to step up an existing research programme into new power sources for trains with heavier needs, such as long-distance passenger trains and rail freight.
New forms of power already developed, such as batteries, have been suitable mainly over shorter distances. Battery systems typically need recharging at least every 100km.
Porterbook said the deal is another step in its existing commitment to aid the UK Rail Research and Innovation Network, which brings together academic researchers and the rail industry.
The Derby-based leasing company's work with the University of Birmingham has already resulted in the unveiling of Britain's first hydrogen train, which was demonstrated at RailLive during the summer.
Porterbrook's chief commercial officer Stephen McGurk said: 'We're delighted to be able to support the University of Birmingham by making available one of our High Speed Trains that has been recently retired from frontline passenger service. We are very excited by some of the ideas that the University is exploring that will reduce emissions and decarbonise the railway. We look forward to some of these coming to market in the very near future.'
The university has also welcomed the chance to expand its research.
Alex Burrows, who is director of the Birmingham Centre for Railway Research and Education, said: 'This HST will be invaluable in allowing us to test and develop our technologies on an operating train and in an open environment. It is by having facilities like these that we can really deliver world-leading research and innovation that will transform the railway for operators and customers. We are hugely grateful to Porterbrook for their commitment to our research and innovation work.'
Reader Comments:
Views expressed in submitted comments are that of the author, and not necessarily shared by Railnews.
Best University in the Country for Engineering and always has been. (Of course that has nothing to do with the fact I studied Mech. Eng. there in the 1960s) However I am interested where they are going to store it ?