Posted 31st July 2019 | 4 Comments
31 July: news in brief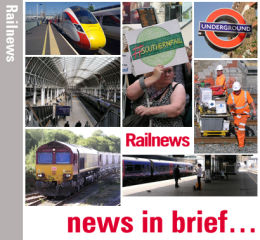 Fourth strike called on East Midlands Trains
THE RMT has called an additional Saturday strike on East Midlands Trains, in the unresolved dispute over what the union describes as 'pay discrimination and contract issues'. The new walkout is set for 17 August. The last of the three strikes which had already been called will be going ahead this Saturday, the RMT said. RMT general secretary Mick Cash said: 'East Midlands Trains lack of commitment to deal with our concerns over contractual issues such as compulsory Sunday working, wage discrimination and other matters is a total disgrace. RMT members will not be left to pay a heavy personal price as Stagecoach slash and burn their way through their remaining franchises.' Customer experience director for East Midlands Trains Adam Piddington said: 'Claims being made by the RMT are untrue. We are very sorry that our customers and colleagues have been dragged into a political argument at a time when there is an RMT leadership election going on. We actually had a very positive meeting with RMT reps last week and we were all hopeful of reaching a resolution to avoid any further disruption for passengers. It's therefore very disappointing that the RMT are still continuing with a further day of action this Saturday and have announced action on the last day of the franchise.'
Hitachi Rail UK wins £400m East Midlands fleet order
HITACHI has won an order worth £400m for a new fleet of bi-mode intercity trains for East Midlands Railway, beating Bombardier. Abellio takes over the franchise from Stagecoach on 18 August. The order consists of 33 five-car sets, which are expected to run in multiple to provide 10-car trains. The new trains are set to enter service in 2022. Abellio says there will be an improved and more consistent 'seven day' catering service in both First Class and Standard.
Reader Comments:
Views expressed in submitted comments are that of the author, and not necessarily shared by Railnews.
It might be useful to run 2x5 car trains in multiple to give a Corby ( and on to M Mowbray ?) unit and a Nottingham or Derby unit combining hourly at Kettering , so as to only require one path , not two, on the mainline to St Pancras.

Am I missing something here or does running 2x5 car 802s instead of 9 cars mean duplicating catering staff? Also, do we assume that Corby will be solo 5 cars as per 222 Meridians?

Might have known Mick couldn't resist one last kick at Stagecoach before they're gone. Seriously Mick, what do you expect to achieve calling a strike on the last day of the franchise, other than to show how obstinate you are?