Posted 22nd July 2019 | 2 Comments
22 July: news in brief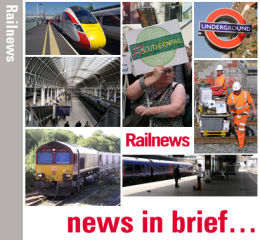 Upgrade for Cardiff Central announced by DfT

THE Department for Transport has announced that up to £58 million has been allocated for an upgrade of Cardiff Central station, but the work will depend on a business case. Although few details have been given, the DfT said the work would 'ease crowding and congestion through the station during peak periods, drive forward regeneration and enable longer trains with more seats'. Transport secretary Chris Grayling said: 'Passengers in Cardiff deserve a modern, accessible station at the heart of their vibrant city centre. This funding has the potential to deliver just that, ensuring more reliable, comfortable and faster journeys into and out of the capital. It is imperative that the two governments in Wales work closely together – in doing so, this strengthens the Union and I look forward to receiving the proposals for an ambitious and deliverable business case.'
Northern Ireland railways threatened by funding cut
THE Department for Infrastructure in Belfast has warned that a deficit in the finances of Translink, which runs trains and buses in the province, are set to 'become acute' this year following a cut in the subsidy of some £13 million in 2015-16. In its annual report, the DfI said that 'continued provision of public transport services, particularly maintenance of the railway infrastructure will be challenging'. It also said that Translink could not 'in any event' sustain 'a deficit in 2020-21 as its reserves will have been significantly depleted'. The department also said that Translink 'in a very challenging environment, has managed to increase public transport usage with significant increases in passenger numbers on bus and rail over the past year', but added that it 'will be unlikely' that all current services can be maintained. The Department for Infrastructure's budget for 2019-20 has been cut by £31 million, and it has warned that it 'has had to strike a balance between maintaining existing infrastructure in water and sewerage, the road network and public transport, and new development, particularly in pursuit of the draft Programme for Government outcomes'.
Reader Comments:
Views expressed in submitted comments are that of the author, and not necessarily shared by Railnews.
£58 mill on station improvements while many towns in Wales don't even have a rail connection... skewed priorities as per usual.