Posted 23rd May 2019 | No Comments
Fire Brigade issues safety warning to Underground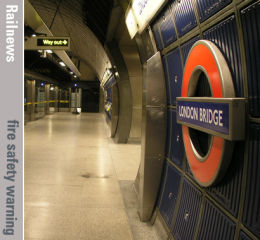 LONDON Fire Brigade has issued a safety warning over the state of London Bridge tube station.
The enforcement notice, served on London Underground Ltd, says there have been eight breaches of fire regulations.
They include failures to review the assessment of fire risk, in the effective management of preventive and protective measures, to provide a suitable method of giving warning in case of fire, and to provide and/or maintain adequate and clearly indicated emergency exits.
Further breaches involve failures to maintain equipment and to co-operate with 'other responsible persons'. Staff at the station have also been left in the dark, because they were not provided with 'comprehensible and relevant information' about the assessment of fire risks.
Transport for London said steps were being taken to address the issues.
A spokesman added: 'Safety is always our top priority, and we work closely with London Fire Brigade to ensure that our stations are safe for our customers and staff. We have met them to discuss the issues they identified and have taken urgent steps to address all of them.'
The notice was dated 10 April, but has only just been published by the LFB. London Underground has until 5 June to comply.