Posted 13th March 2019 | 2 Comments
East West consultation gets thousands of responses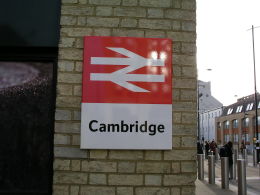 THE first consultation over which route should be taken by East West Rail between Bedford and Cambridge has attracted thousands of responses.
The consultation, which has now closed, attracted more than 3,500 people at eight public events, and also received feedback from thousands more.
EWR chief executive Simon Blanchflower said: 'We are hugely encouraged by the level of interest people have shown in the project and thank everybody who took the time to attend our events or got in touch over the course of the consultation.
'The team will now be looking at all the comments we've received and working with partners and the government as we narrow down to a preferred route option. Bedford, Cambridge and the communities in between need the right kind of infrastructure to support them and the insight we have received from local people will help us to deliver that.'
Five route corridors were unveiled earlier this year. Of the five options offered for consultation, three take a southerly route through South Cambridgeshire via Bassingbourn and two take a northerly route via Cambourne.
A preferred option will be published later this year, and the whole route between Oxford and Cambridge is set to be complete in the mid 2020s.
Reader Comments:
Views expressed in submitted comments are that of the author, and not necessarily shared by Railnews.
Hopefully it will be route E via Cambourne, but I can well see them going for the cheapest option (A). They should have also explored a route from Bedford to Hitchin and then via the new flyover and Royston to Cambridge. The trackbed is mostly intact and there are substantial towns along the route.