Posted 6th March 2019 | 2 Comments
Passengers' help sought after Waterloo explosives were found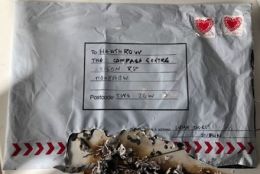 BRITISH TRANSPORT POLICE is appealing to rail passengers to be alert after three explosive packets were found in London.
A packet sent to London Waterloo appears to have been sent from Bus Éireann in Dublin. The Irish Gardai are working alongside police forces in Britain investigating the incidents.
Three packets were found yesterday morning. Apart from Waterloo station, the other two turned up at Heathrow and London City Airports.
The Heathrow package began to burn when staff opened it. No one was hurt.
A spokesman for the Metropolitan Police said: 'The packages, all A4-sized white postal bags containing yellow Jiffy bags, have been assessed by specialist officers to be small improvised explosive devices.
'These devices, at this early stage of the investigation, appear capable of igniting an initially small fire when opened.'
Specialist teams from British Transport Police were called to Waterloo at 11.20 after reports of a suspicious item in the post room.
Staff at Waterloo followed 'tested procedures', said BTP, which added: 'It is important to stress no passengers were put in harm's way.'
The Metropolitan Police is now leading the investigation and is treating all three incidents as linked.
ACC Sean O'Callaghan from British Transport Police appealed for help from passengers, saying: 'Passengers are of course the eyes and ears of the network and we want to hear from you if you see something that doesn't look right.'
Reader Comments:
Views expressed in submitted comments are that of the author, and not necessarily shared by Railnews.
Beware 'surface reading' when it comes to Irish Paramilitaries or Dissidents. Coming from Londonderry, I am well aware that nothing is ever as it seems at first glance. Many Irish Passport holders don't have 'Irish' accents for example. (Mine is now said to be 'Cockney'.) The skill of being vigilant, whilst not outwardly appearing to be so, is a skill worth having on our Railways for any type of crime.