Posted 21st November 2018 | 2 Comments
Siemens tube deal overcomes legal objections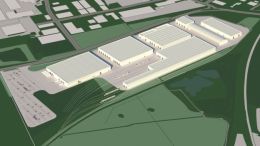 A CONTRACT worth £1.5 billion to supply 94 tube trains to Transport for London has finally been signed by London Underground and Siemens, which was named as preferred bidder in June.
TfL said: 'The initial order is for 94 trains and an associated Fleet Services Agreement covering the supply of spares and whole life technical support. This has been awarded with the expectation that Siemens Mobility will build trains for all four Deep Tube lines – the Piccadilly, Bakerloo, Central and Waterloo & City. Creating a single train design will allow TfL to maximise cost savings through greater standardisation of train operations, staff training, equipment, spares and maintenance.'
However, it was a similar statement in June, implying that further contracts would go to the same bidder, which was challenged by Bombardier and Hitachi.
The High Court has overthrown their objection, and the signing of the contract means that a £200 million factory to build the trains will now be constructed at Goole in East Yorkshire. It is expected to create 700 jobs.
The first tranche of 94 air-conditioned trains is for the Piccadilly Line, where the present rolling stock dates back to the mid-1970s and is becoming increasingly difficult to maintain. Plans published earlier this century had originally envisaged a replacement fleet for the line by 2014.
The first of the new trains should be delivered in 2023, and enter service the following year. London Underground intends to reduce headways on the Piccadilly Line to 135 seconds, stepping up the service from 24 to 27 trains an hour, when all the new 'Inspiro London' fleet is available.
London Underground managing director Nigel Holness said: 'This order will mean the replacement of the 1970s fleet, and will help address crowding on the line as London's population continues to rise.'
Further batches of new trains for the Bakerloo, Central and Waterloo and City lines are due to be ordered later. The Bakerloo fleet is the oldest in service on London Underground.
Reader Comments:
Views expressed in submitted comments are that of the author, and not necessarily shared by Railnews.
Siemens to build their new "Inspiro" London Underground tube stocks not just for the Piccadilly Line but also for the Bakerloo Line, Central Line and Waterloo & City Line aswell. That's brilliant news. I think Siemens should do manufacture more trains for London's transport. Since they built the Class 700 Desiro City Thameslink trains consists of 12-Car and 8-Car and 5-Car Class 707. Aswell 4-Car Class 350, Class 360, 5-Car Class 444 and 4-Car Class 450 Desiro trains. That are currently operated in & out of
London terminus stations.