Posted 24th April 2018 | 5 Comments
First/Trenitalia back away from East Midlands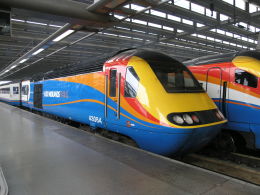 NEW uncertainty has arisen over a franchise competition after FirstGroup and Trenitalia decided to withdraw from the Department for Transport competition for East Midlands.
The contest for East Midlands has already changed. The original shortlist, announced in March 2017, comprised Arriva, Stagecoach and a 70:30 consortium of FirstGroup and Trenitalia.
Transport secretary Chris Grayling disclosed on 5 February this year that Abellio had joined the list after the shortlisting procedure had apparently been rerun by the DfT. Mr Grayling told MPs: "The competition [for East Midlands] will be run on a fair, transparent basis, including new safeguards against overbidding. Ultimately, the winner will be the firm that offers the best service to passengers and best value to the taxpayer."
However, the prospects have changed again, with yesterday's withdrawal of the 70:30 consortium of First and Trenitalia.
First said: "FirstGroup, alongside our bidding partner Trenitalia UK, has decided to withdraw from the East Midlands franchise competition in order to focus on our joint bid for the West Coast Partnership franchise. This is an exciting opportunity to be the first operator of HS2, as well as run conventional West Coast services from London to Glasgow.
"We remain committed to retaining a leading position in the UK rail market. We will continue to bid in a disciplined way which is good for our stakeholders, the sector as a whole and above all, passengers."
The DfT is still due to award the East Midlands contract in April next year, with the contract starting in August.
It is not the only recent withdrawal from a franchise competition. Trenitalia UK withdrew from the South Eastern competition in August last year, saying that there was a 'significant overlap' with the competition for the high profile West Coast Partnership.
Analysis
'Fair' and 'transparent' are interesting words, writes Sim Harris.
It may be fair, but the franchising process is very far from transparent. The Department for Transport cannot be held responsible for what individual prospective bidders choose to say (or not to say), at least in the early stages, but the Department itself often goes strangely quiet when changes occur, particularly if that change involves the withdrawal of a bidder.
Certainly you will search the DfT website in vain for any official acknowledgement that First and Trenitalia have decided to abandon East Midlands.
There are two questions. One is why bidders are changing their minds so frequently these days, and the other is why the DfT is often discreet to the point of secrecy when they do.
The business of bidding has become immensely complex. The full process is said to cost a typical bidder at least £10 million, which is not refundable if it fails to win. Therefore some pull back at an early stage because they would prefer to concentrate on another franchise which appears to offer more juice.
This, indeed, appears to be the reason for Trenitalia's withdrawal from South Eastern last summer, because it also has its eye on West Coast Partnership and has evidently decided that it would be more potentially rewarding to concentrate on that.
Fair enough, but these overlaps are surely occurring because the DfT's franchising programme is still in disarray, more than five years after the ignominious collapse of the West Coast competition in October 2012. The present list of current franchises includes provision for substantial extensions in almost every case, and these can run up to two years ('26 reporting periods' looks less sensational, perhaps, but it is still two years).
These huge contingency allowances say more about the DfT's confidence in its own processes than anything else.
The DfT is quite keen – indeed, very keen – to avoid another West Coast 2012 debacle, and this is quite understandable. The reasons are not merely that failures like this are expensive to rectify, wasting millions of taxpayers' money, but they also trigger humiliation in Press and Parliament, which is the real nightmare of every career politician.
Which brings us to the second question, and indeed the answer to it. The DfT stays quiet as long as possible when the bidding horizon changes because a fluid situation could suggest to critical onlookers that the Department is not wholly in control. To describe its habit of hiding under the table as 'transparency' is ridiculous. It is nothing like it.
The DfT is an organisation whose first priority appears not to be running part of the government as economically and effectively as possible but instead avoiding unpleasantness during Transport Questions. Whether it should actually be in charge of our railways is another matter.
To take just some of the items on the charge sheet, we have presently have East Coast falling apart (and a distinct official reluctance, apparently, to do much about it), Thameslink running yet another year late, Intercity Express costs spiralling because electrification was ill-planned (and a remarkably silly justification for cutting it back which has now been exposed by the NAO), increasing public restlessness over what are perceived to be Unfair Fares, and even a legal threat to the present transport secretary from a pressure group which wants to see complete renationalisation of the passenger railway.
Let's face it. It's not going awfully well.
Reader Comments:
Views expressed in submitted comments are that of the author, and not necessarily shared by Railnews.
It seems a lot of us see the fundamental flawedness in the current, unravelling franchise model.

Amongst several of these flaws is the current system's disincentive to operators from making long- term investment ; one of the original justifications for privatistion was to free the TOC's from the parsimony of the Treasury.

Maybe different types of passenger operations need different models ? The concession model would probably suit well those that have "captive markets",( Merseyrail, commuter services into big connurbations, TfL, etc) especially if under the control of local direct democracy. But where effective competition is feasible( intercity, crosscountry etc.), open access seems the best way to go.

And this is my main problem with privatisation (in its current form). Most of the things blamed of privatisation are the legacy of decades of underinvestment, which would be the same whoever was running the trains. However, all these woes with franchising is a problem that was created out of nothing.

My vote is to switch to the concession model like we used for Overground and Merseyrail, for one reason and one reason only: we know this works.

DB Arriva, Abellio (with joint venture JR East+Mitsui) and MTR could take over the East Midlands franchise from Stagecoach that are to lose the franchise. As Stagecoach have already lost the South West franchise to First/MTR that South West Trains became South Western Railway.

And Abellio along with JR East+Mitsui as joint venture took over the West Midland franchise from Govia that London Midland was renamed and rebranded as West Midlands Railway (West Midlands Railway and London Northwestern Railway).



Sums up the mess the franchise process has become. Even it's most ardent proponents should be ashamed. MML customers deserve better. Despite repeated promise of jam tomorrow even maintaining the current service has been degraded by Thameslink conflicts before resolving the uncertainty of replacing the soon to be non compliant HST'so.