Posted 17th April 2018 | 5 Comments
Stop-skipping figures blamed on railway congestion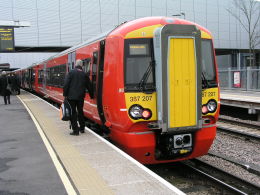 The worst operator was named as Govia Thameslink Railway, with more than one in 70 services allegedly missing out some stops to recover lost time
NEW figures showing how many trains run past intermediate stations to recover lost time suggest that more than 5,000 services are affected by 'stop-skipping' every month.
The Department for Transport has 'regretted' the inconvenience, but claims fewer than 1 per cent of stops are ignored during an average day.
A Freedom of Information request by the BBC has revealed the statistics, prompting protests on behalf of passengers who cannot join or alight from trains because they are now running 'fast'. Reports also suggest that in some cases passengers have been carried past their stops because no warning was given in advance.
The official figures cover the 10 months from April 2017 to February 2018, and reveal that more than 52,000 trains were affected by 'stop-skipping' in that period.
The worst operator was named as Govia Thameslink Railway, with more than one in 70 services allegedly missing out some stops to recover lost time. However, GTR is also the largest passenger franchise in Britain, covering Southern, Thameslink, Great Northern and Gatwick Express.
A GTR spokesman said missing station stops was a "last resort when a train running late would otherwise prolong disruption". He added: "We operate the country's most congested rail network and with a train departing every 27 seconds on average, even a minor delay to one train can cause a widespread and long-lasting knock-on effect to many other services and passengers across many routes."
The league table of stop-skippers places Southern, part of GTR, at the top of the list, followed by South Western Railway (one in 90), Southeastern (one in 100), and then Transport for London Rail and Arriva Trains Wales (both one in 142).
Less congested or complicated routes recorded significantly fewer missed stops. Greater Anglia services only stop-skipped once in 500 times, while Chiltern Railways, Virgin Trains East Coast and Heathrow Express scored better than one in 1,000. Heathrow Express has no intermediate stops, except those serving various terminals at the airport itself.
The Office of Rail and Road says the majority of delays, about 60 per cent, are caused by infrastructure problems or third parties, such as trespassers.
The other 40 per cent are caused by operators. About three-quarters of these (30 per cent), are attributed to the operator of the delayed train, while the rest, equivalent to 10 per cent of all delays, are attributed to another operator, as when a slow-running freight train delays passenger services.
The Department for Transport said: "Our railways are more intensively used today than at any time in our history. Fewer than 1 per cent of stops are skipped per day. While any inconvenience caused by stop-skipping to passengers is regrettable it helps restore the timetable, benefiting many more people across the wider network."
The head of customer experience at the Rail Delivery Group, Jacqueline Starr, agreed that it was 'frustrating' for passengers when stops were skipped. She added: "While the number of incidents causing delays and cancellations is going down, each incident is having a bigger impact due to congestion on the network and this is something that we are working hard together to get right."
Reader Comments:
Views expressed in submitted comments are that of the author, and not necessarily shared by Railnews.
And this would have nothing to do with the fact that if they skip stops and get to there destination they don't get a fine and there is no delay repay to the passengers. Whereas if they kick all there passengers off and skip stops there is no financial pain? Perhaps they out to skip all stops except there start and finish destination then they will meet all their targets and not get fined and not to worry about the passengers?
Sensibly there should be a fine to the TOC for every station stop missed so that have an incentive to proved a service for everyone?

Martin

Why canít Govia Thameslink Railway split the franchise if they have been voted the worst train company. Iím sure that Govia will retain the Thameslink Great Northern franchise. But to split the Southern franchise from GTR. And to allow another rail franchise ie Abellio, Arriva, Trenitalia, First Group or MTR to take over the Southern franchise along with Gatwick Express that it will remain as part of the Southern franchise but not with GTR.


I suggest that 10% of Reading Buses do this as well. Particularly the main 17 route across Town which runs every 7 minutes. A wide variety of skipping stops,'fast' running, transferring passengers and a complete turn-around are methods used to stop 'bunching' and keep the timetable at least roughly right. It is not just a Railway phenomena.

Skipping stops has always been a tool available to controllers to recover the timetable in times of perturbation. A balance has to be struck between outright cancellation of a service and running empty or running limited stop in order to balance resources. Experience & knowledge of traffic flows being essential in minimising delay to the minimum number of customers. Increased service frequencies on many routes should have ensured that when stops have to be omitted that reasonable alternatives are available to affected customers.

Congestion is increasingly the go to explanation for the impact of delay. As several recent reports have highlighted in many cases the base plan has been too optimistic for the available infrastructure & resources. The challenge for NR given the pressures from franchised operators with DfT agreed commitments & open access operators through access agreed through the ORR is to ensure that capacity has not been oversold resulting in a sub optimum timetable. Unfortunately as the ECML capacity issues have highlighted too many cooks have been overselling the network.

Picking up the comment regarding slow running freight trains delaying passenger services bearing in mind Lord Adonis has recently had his fingers burnt for erroneously blaming freight for his delayed journeys. If the freight is in it's correct path then it is the passenger service that is out of course & any delay is a consequence of the initial delay to the passenger service. The FOC's also have time sensitive customers to serve & already face many constraints to avoid unduly interfering with passenger flows.