Posted 14th March 2018 | No Comments
Millennial railcards sell out, but there's always the fruit option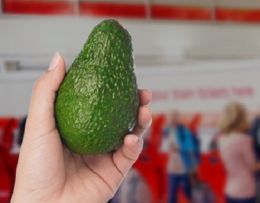 (Virgin Trains)
THE newest Railcard has quickly sold out, and demand was so high that the website selling them crashed. One operator has briefly offered to accept a fruit instead, providing a footnote to railway history in the process.
The card is intended for 'Milliennials' – people aged between 26 and 30 inclusive – and provides the usual 33 per cent discount on most National Rail fares.
Now only people aged between 31 and 59 cannot buy a national Railcard of some kind for discounts on solo travel, although anyone can buy a Network Card for the south east of England and there some equivalent products in the regions. Neither are there any age limits for the 'Two Together' or Family Railcards.
The regional products, however, are restricted to relatively small parts of the network and do not include travel to London and the south east.
Extending a national railcard to people in their later 20s has plainly worked. The national launch followed a successful trial on Greater Anglia, but the number of cards was capped at 10,000.
This 'rationing' caused major problems because many people struggled to buy one unsuccessfully, and they were hindered still further by the website difficulties.
The Rail Delivery Group said: "When the 26-30 railcard trial began, the National Railcard website was receiving 12 times the normal number of visitors. We were prepared for demand to be similar to that of previous trial launches.
"Due to the unprecedented demand we have been working with our suppliers throughout the morning to further increase the capacity on the website. We recommend that customers continue trying the National Railcard website, and keep an eye on @_Railcards Twitter and Facebook pages for updates."
One disappointed buyer who has missed her only chance to buy a solo national Railcard for 29 years is Helen Coffey, deputy head of travel at the Independent, because she turns 31 on 14 March. She told the BBC that the RDG had been 'a bit naive to think it would not be flying off the shelves'.
One operator has raced to the rescue, regardless of the usual rules about acceptable methods of payment, by offering to sell discounted tickets until Tuesday 20 March to any Millennial who produces an avocado – said to be a favourite food of that age group – at a ticket office window.
Virgin Trains said: "With the #avocard, you'll get all the perks of the 26-30 railcard. Simply present an avocado in place of the railcard at any Virgin Trains West Coast station to get a third off our fares."
The offer naturally comes with Terms and Conditions, which include a warning that avocados cannot be used at ticket vending machines. There is, after all, no slot of the right size.