Posted 25th August 2017 | 4 Comments
Corbyn confirms opposition to 'Ladies only' areas on trains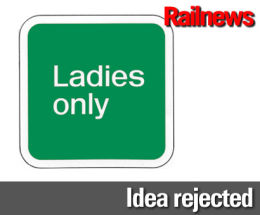 LABOUR leader Jeremy Corbyn has firmly rejected the idea of reviving 'Ladies only' accommodation on trains, after the possibility was raised by one of his shadow ministers during a radio interview.
Mr Corbyn did consider the idea briefly two years ago during the election campaign, but he now says it was a 'discussion item which was taken out of context'.
The latest senior Labour figure to mention it has been shadow fire minister Chris Williamson, who was reacting to new figures from British Transport Police which show that the number of sexual offences reported on trains has more than doubled in the past four years.
He told the BBC separate areas for woman were an 'idea worth exploring' because they would create 'safe spaces'. He added: "I'm not saying we should go down this road at all. I'm merely suggesting that we consult on it."
However, former Labour transport secretary Lord Adonis said the idea was 'grossly insulting', while Walthamstow MP Stella Creasy tweeted: "Can we make all carriages safe for all passengers rather than restricting where we can go?
"It normalises attacks. We need to be clear they are [the] problem, not women's seating plans."
Another MP, Labour's Jess Phillips, said the idea was 'absolutely terrible'. She explained: "Men should be incredibly annoyed. Sexual violence isn't about urges, it's about power. If you take your feminist cues from Saudi Arabia, you've gone wrong."
The last segregated compartments were phased out by British Rail in the 1970s, as older rolling stock without corridors was finally withdrawn from service. Current railway byelaws still allow areas on trains or stations to be restricted to certain 'categories' of person, although specific references to 'ladies only' compartments have disappeared.
Reader Comments:
Views expressed in submitted comments are that of the author, and not necessarily shared by Railnews.
I would have thought modern open carriages where people are mixed would actually be safer. My wife would be a lot happier in a carriage with several men in it rather than stuck in a ladies only compartment or carriage which would be a magnet for certain types who see women as prey. Having said that, I do not think it is unreasonable to have the discussion about safety on public transport, especially for vulnerable people.

It will not happen. Never. Not even in 100 years time.

Given the increasing use of walk through trains as found on Sub Surface S Stock Line, London Overground and soon The Elizabeth Line the idea of segregation becomes impossible.

In fact I would have thought the old compartment Stock which had no corridor had greater dangers given once the train started the occupants were together until the next station which on long distance trains could have been a long time ..