Posted 10th July 2017 | No Comments
High Speed students to learn from Eurostar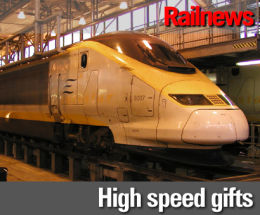 TWO of the first-generation Eurostar power cars which entered service in 1994 are finding a new role -- as demonstrators for students at the National College for High Speed Rail.
The two power cars have been retired by Eurostar as more of the new Siemens Velaro sets take over, and are being refurbished by their builders Alstom before moving to new homes on the High Speed Rail college campuses in Doncaster and Birmingham.
Students will be able to study recent high speed train technology in depth, said Alstom. The vehicles were built to the smaller British loading gauge because they had to use the domestic network from London Waterloo until the second phase of HS1 had been opened in 2007. Although their dimensions were restricted, they were still a type of TGV, echoing the features of their larger counterparts in France.
Eurostar chief operating officer Philippe Mouly said: "We are very pleased that the power cars of two of our original Eurostar trains will play a key role in developing the skills and expertise of the rail engineers of the future. These iconic high speed trains were ground-breaking and have transformed travel between the UK and mainland Europe."
The college's chief executive Clair Mowbray described the donation as 'generous'. She added: "We are very grateful for the support we have received so far from business and industry leaders. As an employer-led college, we are still keen to hear from employers wishing to show support in addressing the current engineering and rail skills gap.
"This generous donation allows us as a world-class college to offer our students the opportunity to develop real-life skills using industry-leading technology. Support like this is crucial for us to ensure that we can properly train and prepare the future workforce for the rail and infrastructure industries."
Alstom is also building its own training academy in Widnes as part of a new technology centre in the region. The academy will open in September, when it will welcome the first 65 apprentices.