Posted 10th February 2017 | 2 Comments
New ORR clampdown on ticket machines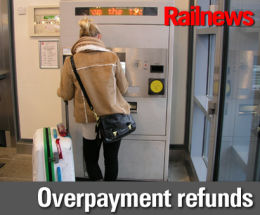 THE Office of Rail and Road has called for a new price guarantee for passengers who buy tickets from vending machines, after its own mystery shppers inadvertently chose a more expensive ticket than they needed in more than seven cases out of each hundred purchases. In other cases they risked a penalty fare by choosing the wrong ticket.
The ORR said most of its shoppers did get it right, but 7 per cent failed to find the most flexible ticket for their journeys (with the majority also risking a penalty fare) and 13 per cent chose a more expensive ticket than they needed.
Train operators are now being urged to refund passengers who fail to understand the ticket machines, as well as improving the standard of information about the range of tickets available and when peak hour restrictions apply, which was lacking in 57 per cent of the mystery shoppers' tests. More general rules about the validity of tickets were missing in almost a third of cases.
The Rail Delivery Group launched a 10 point plan to improve ticket machines in January last year, and recently committed operators to complete this by the end of the year.
The ORR said it wanted to see improvements 'as soon as possible', and has asked the RDG to make clear 'what it expects to be delivered, by whom and when, in the short term to address the issues our research identifies'.
John Larkinson, who is director of railway markets & economics at the ORR, said:"Everyone travelling by train should be able to buy the most appropriate ticket for their journey.
"Despite investment in new technology and the removal of jargon from ticket machines, our new research shows passengers may be paying more for their journey than necessary. Our mystery shoppers found ticket machines are missing important information on ticket choice, restrictions and validity.
"To quickly benefit passengers, the Rail Delivery Group must set out what improvements to ticket machines will be made in the short term, and we are calling on train companies to commit to refund anyone who finds that they could have bought a cheaper ticket for the same journey."
The ORR added that it would monitor progress, and repeat its research in a year from now.
The Rail Delvery Group said: "Train companies are working to reform fares through a number of agreed trials which will enable simplification of the fares structure. Complex, decades-old government rail fare regulations make it more difficult for train companies to offer the right, simple options on ticket machines.
"Simplyfing the number and types of fares in the system will let train companies provide customers with clear information and help them to make better informed choices. We want customers to get the best possible deal every time they travel by train, however they buy their tickets."
The tighter rules have been welcomed by the consumer group Which?, whose campaigns director Vickie Sheriff said: "The current ticketing system is a mess with passengers finding it far too difficult to find the best ticket for their journeys.
"It's unacceptable that people are paying over the odds and train companies need to refund passengers who've paid more than they should. Train companies must do much more to ensure that passengers can find the right fare every time."
Reader Comments:
Views expressed in submitted comments are that of the author, and not necessarily shared by Railnews.
I like most people buy my Tickets on-line at least 24 hours before Travel. Just like Airline Tickets. Then I put my Credit Card in the Machine just before I travel and the Tickets are automatically printed. Quick, cheap and Simple.