Posted 6th February 2017 | 1 Comment
Franchising 'fails to deliver for passengers' say MPs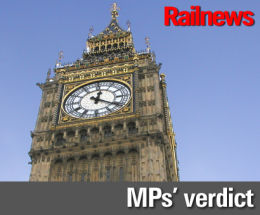 THE House of Commons Transport Committee has called for major reforms to the rail franchising system, or else franchising might not be 'sustainable in the longer term'.
It also says the government has 'serious lessons to learn' from the long period of disruption on Southern, which may have moved forward after ASLEF and Govia Thameslink Railway reached agreement on 2 February (story, pages 1 and 4).
The Committee has called on the Department for Transport to commission an independent review of its franchising functions, and even consider transferring franchise enforcement powers to the Office of Rail and Road.
While MPs on the Committee say they are 'encouraged' by progress made since 2012 – the year that the West Coast franchising competition collapsed – the 'core policy objectives of franchising are not being met'.
They continued: 'The current model fails to deliver for passengers, to drive industry efficiencies, promote competition, reduce the taxpayer subsidy or transfer financial risk to the private sector.'
Committee chair Louise Ellman said: "While franchising enabled passenger growth and service improvements when it was first rolled out, passenger satisfaction with the railways is falling. Its core objectives are no longer being met, potential benefits are being lost and the passenger is suffering through higher fares and continued underperformance.
"Our report explores why the current model is no longer fit for purpose. But this will not be solved overnight. There is no one-size-fits all approach and the Government should work with other agencies to introduce steady, strategic reform to secure improvement."
She also had harsh words for the government over the problems on Southern. She continued: "The Government has serious lessons to learn from the management of the TSGN franchise. This highlights the lack of progress by the Department since the overhaul of franchising that followed the failed re-let of the West Coast franchise in 2012.
James MacColl, who is head of campaigns at the Campaign for Better Transport, responded: "To say that the Government has 'serious lessons to learn' from the management of the TSGN franchise is an understatement. The government must be held to account for the failings of Southern, which has made people's lives a misery."
Reader Comments:
Views expressed in submitted comments are that of the author, and not necessarily shared by Railnews.