Posted 8th November 2016 | No Comments
Franchise contracts could block greater transparency over late trains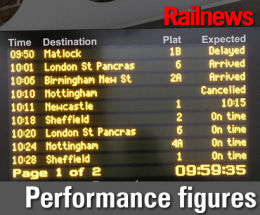 THE Department for Transport is set to lift the veil on rail performance by publishing the actual figures against the contractual benchmarks for each franchise every four weeks.
The Commons Transport Select Committee has revealed a letter from rail minister Paul Maynard, in which he says the Committee's investigations 'have proved helpful in changing the Department's approach'.
However, he warns that 'commercial and market sensitivities' could pose a stumbling block as far as current franchises are concerned, because their contracts do not allow the Department to publish this information.
He said: "This is a new approach to franchise performance, and existing franchise agreements may need to be amended to account for this change. We will need to consider how we manage this shift in policy with existing franchises given commercial and market sensitivities, particularly as many are operated by stock market listed companies."
The Committee has been examining the performance of Govia Thameslink Railway in particular as part of a wider inquiry into franchising and the experience of passengers.
Committee chair Louise Ellman said: "I am pleased that the Department has accepted the case for greater transparency made by my Committee.
"As a Committee we were continuously frustrated by the lack of information on the performance of individual rail companies during our recent inquires. Govia Thameslink Railway was a particular concern, given the abysmal service that commuters have been forced to endure.
"The Department has told us that it will now publish performance figures against contractual obligations for every rail franchise, on a regular basis. This should give commuters real insight into the quality of the service they pay for. It will help us understand how the Department monitors the contracts it lets.
"There is a great deal of work still to do but this is a positive start. In evidence to the Committee, Mr Maynard committed to putting the passenger first and recognised the need for the Department to 'get on with it'. We will watch carefully to see how the Government delivers on this new commitment to transparency and how quickly these arrangements can be brought in."