Posted 2nd August 2016 | No Comments
Change at the top for Network Rail Wales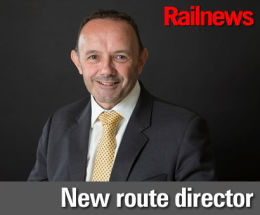 NETWORK RAIL's new managing director in Wales has started work.
Andy Thomas has joined NR from the Keolis Group where he was managing director for Hyderbad Mass Transit Metro in India.
He said: "It's great to be part of the Network Rail Wales team. This is a really exciting time with improvements being delivered across the rail network, including modernising the railway with the electrification of the South Wales Main Line and Cardiff Area Signalling Renewal project – the largest resignalling project ever undertaken in Britain.
"Over the coming months, I will be meeting colleagues and others who play a role in Network Rail's operations in Wales, as we work to not only deliver a safe and reliable railway but deliver ambitious plans for a bigger and better railway for passengers and businesses.
"I would also like to thank Paul McMahon who has been caretaking the role since September last year."
Andy has almost three decades of experience providing strategic, programme and operations leadership to major transport and engineering businesses internationally, including successful strategic leadership with Transport for New South Wales in Australia and Transport for London, where he was head of strategic planning and performance.