Posted 13th June 2016 | 2 Comments
Birthday honours for railway people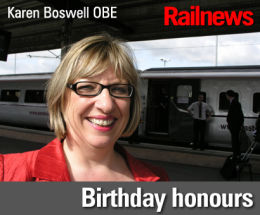 SEVERAL well-known names in the railway industry have received honours in the Queen's birthday list.
There is a knighthood for Crossrail chairman Terry Morgan, an MBE for Mark Smith, the head of suicide prevention at British Transport Police, and an OBE for Karen Boswell, who is the managing director of Hitachi Rail Europe. She was previously the managing director of East Coast before the franchise was transferred from the DfT's Directly Operated Railways to a consortium of Stagecoach and Virgin Trains in March last year.
Sir Terry Morgan CBE has been knighted for his services to UK infrastructure, skills and employment. He was appointed Crossrail chairman in 2009 and chair of the HS2 College Governing Body in 2015. Last year he was appointed by the Government to lead the development of a transport infrastructure skills strategy.
Transport secretary Patrick McLoughlin said: "I am delighted that Terry Morgan has been honoured for all the extraordinary work he has done in overseeing the delivery of the Crossrail project and developing the Government's Transport infrastructure skills strategy.
"By placing engineering skills development at the heart of Crossrail he has shown that delivering huge infrastructure projects on time and on budget and investing in skills go hand in hand.
"As a former apprentice himself, Sir Terry has inspired a new generation of apprentices and encouraged more women and young people into this vital sector, whatever their background and aspirations. He has been both a leader to his peers across industry and a relentless champion for vocational skills. This honour is a well deserved recognition for many years of hard work."
Mark Smith of British Transport Police has been named MBE for 'being an inspirational role model who has consistently delivered above and beyond what is expected of him', according to BTP.
Chief constable Paul Crowther said: "It gives me enormous pleasure to congratulate Mark on his award which is richly deserved given his outstanding service with BTP. He is a huge credit to the force and the police service as a whole."
Mark, who lives in Colchester, joined the force in 1981 before retiring in the rank of Chief Superintendent in 2013. His role as a senior investigator saw him assuming responsibility for the investigations into two serious accidents: Ladbroke Grove in 1999 and Potters Bar in 2002.
He became the national police lead for corporate manslaughter and worked with the Government to develop new corporate manslaughter legislation.
Karen Boswell of Hitachi becomes an OBE for her work with East Coast, where she was in charge from 2009. The service was improved and the franchise was prepared for a successful transfer back to the private sector last year. She joined Hitachi in June 2015.
She said: "I am extremely honoured and thrilled. It's a great privilege to serve within an industry which makes such a positive difference to the lives of millions of people who travel for work and pleasure on Britain's railways every year.
"During my career in rail I have encountered colleagues who possess a genuine passion and dedication to delivering high-quality service and standards to their customers. The railway is in the midst of a new golden age, driven by large-scale investment in infrastructure and services, and I am proud to be part of an industry as well as a business that is creating exciting new careers and opportunities with a workforce that is becoming more diverse and inclusive.
"It is, therefore, humbling for me to receive such prestigious recognition for my contribution to an industry which is full of stars -- past, present and future."
Reader Comments:
Views expressed in submitted comments are that of the author, and not necessarily shared by Railnews.
So a bunch of corporate wasters (bar one copper) get awards, whilst guards, ticket office staff and station staff get put on the dole.

Wonderful.