Posted 2nd June 2016 | 3 Comments
Strategic railfreight interchange debate ignites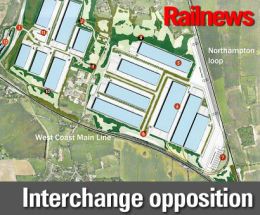 PLANS have been unveiled for Rail Central, a major rail-connected freight terminal near Blisworth in south Northamptonshire promoted by Ashfield Land. It could be a base for high speed freight trains formed of converted Intercity 125 HSTs and also provide a home for the Royal Train, as the future of its present depot at Wolverton continues to be in doubt. However, local people in the Blisworth area are opposing the plans.
The plans show Rail Central connected to the Northampton loop and also the main West Coast line, just south of the A43 trunk road at Blisworth.
Rail Central's Nick Gallop told Railnews it was the developer's intention to connect with the up and down lines on both the loop and the main line, which would open the door to express freight trains consisting of converted Intercity 125 sets. Mr Gallop said that he was in discussion with Porterbrook on the potential costs.
When asked what Network Rail and franchisees would think of Rail Central, Mr Gallop said: "Rail Central is being encouraged by Network Rail to develop these proposals and more detail will follow. Ashfield Land could pay for the route enhancements over and above their requirements in exchange for a Track Access Agreement guaranteeing them paths for Rail Central's customers."

He said that they were looking for equity partners, possibly pension funds.
In a related development, he added: "The Royal Train could be based at Rail Central as there are plenty of former Wolverton Works staff in the area." There is also growing doubt about the future of Wolverton Works, because the landlord has applied for permission to demolish them.
Mr Gallop said he had not yet spoken to DB Cargo or Knorr-Bremse but planned to do so. He also said that Toton is under threat from HS2 and DB Cargo could be looking for another depot with maintenance and fuelling facilities -- which could include stabling the Royal Train.
However, people living in the area are hotly disputing Rail Central's claims that 8,000 jobs could be created locally and also questioning the need for a fourth rail connected freight terminal, given that Daventry Interntional Railfreight Terminals are just 30km away.
Mark Redding from the protest group 'Stop Rail Central' told Railnews: "Apart from the obvious noise and disruption from a 24/7 rail operation, the local road infrastructure just would not be able to cope with the extra HGV and service traffic needed to keep such an operation going."
Nonetheless, Rail Central is hoping to be operational by 2019 or 2020.
Reader Comments:
Views expressed in submitted comments are that of the author, and not necessarily shared by Railnews.
Too many people object every proposal. Not everything is bad as it first seems!

I've never seen so many objections and on-line petitions than for this development.

But then objecting to freight interchanges is the latest obsession of Nimbys, now that we have stopped building so many new roads and wind farms.