Posted 16th November 2015 | No Comments
Mystery presence of children on crashed TGV test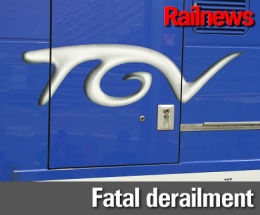 FRENCH accident inspectors are investigating why several children were on board a test TGV which crashed near Strasbourg on Saturday, killing 11 people and injuring 30 more. It is not known if any of the children were among the fatalities.
The derailment occurred when the train was travelling at a reported 350km/h through the town of Eckwersheim, on a 106km extension of LGV Est between Baudrecourt and Vendenheim (Bas-Rhin) near Strasbourg, which is due to open in April.
The train was carrying 49 technicians when it derailed and caught fire, with at least one leading vehicle coming to rest in a canal alongside the line and more wreckage being scattered in a field. It is thought that excessive speed was to blame.
It is not clear why there were children on board, but it has been suggested that they were the sons or daughters of railway staff.
SNCF president Guillaume Pepy said "the railway family was in mourning". As far as the children were concerned, he said: "That's not a practice that the SNCF recognises. A test train is a test train."
Junior transport minister Alain Vidalies and ecology minister Segolene Royal have been visiting the scene.
The crash is a blot on the previously excellent safety record of the French TGV network. No passenger has been killed since the first line opened in 1981.