Posted 19th October 2015 | 1 Comment
Sweet flavour for East Midlands Trains relaunch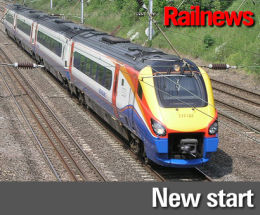 STAGECOACH franchise East Midlands Trains is celebrating the first weekday of its contract extension with chocolates for passengers and a visit from the transport secretary, after a direct award was announced by the Department for Transport last month.
The extension, which was confirmed on 16 September and officially started at 02.00 on Sunday, takes the EMT franchise on to 4 March 2018, with the possibility of a further year after that. The decision to extend the EMT contract is part of the DfT's revised franchising programme, which was necessary after the collapse of the Intercity West Coast competition in October 2012. The East Midlands award will have been a relief to Stagecoach Group, because negotiations over a similar extension to its South West Trains franchise broke down in July.
In return for the extension, Stagecoach has undertaken to invest a further £13 million in EMT, whose primary intercity route runs from London to Leicester, Derby and Sheffield, with spurs to Corby and Nottingham. This route has already been in the news this year, after plans to electrify the line north of Bedford were controversially 'paused' by the transport secretary in June in response to the problems with project planning and costing at Network Rail. The scheme was 'un-paused' at the end of last month, but not without a price, because the completion date has now been extended on the main line north of Kettering to 2023, although Bedford-Kettering-Corby is still due to be energised by 2019.
The extended East Midlands Trains franchise is now therefore likely to take the Midland route to the brink of its first extension of electrification since 1983.
EMT said the £13 million of new funding will allow more discounted fares and a freeze of Anytime fares until 2017, additional front-line staff, an improved compensation scheme, cleaner and more accessible stations and trains, upgraded on-board services with more buffet counters, and new technology to boost passenger information. Saturday passengers in First Class will also receive a complimentary breakfast for the first time.
£250,000 will be allocated to Community Rail routes in the EMT service area, which as well as the Midland Main Line includes parts of East Anglia, Lincolnshire, Staffordshire and the north west. EMT is also promising that its employees will benefit from 'a wide range of improvements'.
Today's launch has featured train-shaped chocolates for passengers and extra staff on hand to explain the forthcoming changes, which are also set out in the first edition of a new twice-yearly report, East Midlands Matters.
EMT managing director Jake Kelly said: "This is a very exciting day for our customers, our employees and local communities and marks the start of our multi-million pound investment programme.
"We are extremely pleased to have been given the opportunity to continue operating train services until at least March 2018, and we're certain our customers will welcome the plans we have in place to improve our services.
"Today marks the start of a new era for East Midlands Trains and we hope customers will enjoy talking to our team, reading about our plans and of course, eating the free chocolates we'll be handing out."
Transport Secretary Patrick McLoughlin added: "I want to see passengers put at the heart of our railway system. The franchise that starts today will mean better journeys and a better deal for passengers on East Midlands Trains. Strengthening our transport infrastructure, locally and nationally, is a key part of the government's long term economic plan."
Reader Comments:
Views expressed in submitted comments are that of the author, and not necessarily shared by Railnews.

At first I thought Corby wiring should be much faster than that, but then I remembered that one of the biggest players in the Electrification game has by the looks of it dropped out. Balfour Beatty was the late BICC (remember how at one time BR electrifications seemed to be either BICC or Pirelli?). With an RAIB investigation into a runaway wiring train which had reputedly broken down several times in the preceding months, a sad low for a once mighty outfit.

And a hole in an already parlous supply chain---------.