Posted 2nd September 2015 | No Comments
Fresh migrant breakthroughs affect Channel Tunnel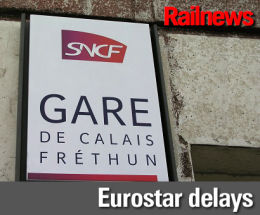 EUROSTAR services are returning to normal after a night of disruption caused by fresh breakthroughs of migrants into the Channel Tunnel at Calais.
Passengers on board at least one Eurostar reported being asked to listen for sounds of people on the roof of their train, while several services were turned back to London or their continental departure points after police in Calais responded to an alarm that migrants were climbing on to trains a couple of kilometres from the Tunnel portal.
Eurostar said up to 2,000 of its passengers had been delayed overnight or this morning.
Calais Frethun station was thronged with hundreds of stranded passengers for a while, after one of the Eurostars affected developed a fault and could not return to Paris.
The Tunnel approaches were blocked between 21.45 last night and 02.23 this morning (local time), and passengers in one stranded train complained they had been effectively trapped aboard for five hours.
Eurotunnel said the line had been blocked by migrants. Spokesman John Keefe explained: "Due to increased security at the Channel Tunnel they are now trying to get on the tracks."
Two Eurostar journeys to London and Paris were cancelled earlier today, but services are now running normally again.