Posted 16th June 2015 | 6 Comments
Minister signals possible return of parcels by train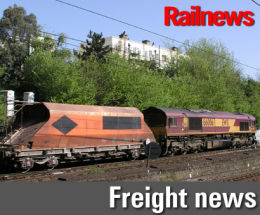 RAIL minister Claire Perry has admitted that successive governments have failed to invest sufficiently in infrastructure, and declared herself 'determined to turn things round' in response to rapidly rising demand. She also signalled that new ways of using rail are being actively investigated, including the carriage of parcels and other low-bulk goods on passenger trains.
She told an audience of rail engineers in London that transport networks are now full, and that railfreight was at the heart of the government's plans to upgrade the railway system between now and 2020.
She said: "This government wants more than anything to deliver balanced, sustainable economic growth. And you can't grow a local, regional or national economy without moving people and products."
She pointed out that railfreight's share of the market has doubled to 11 per cent since the sector was privatised 20 years ago, and that the UK is doing better at moving goods by rail than many other countries, including China, which is often highlighted as a progressive country as far as railways are concerned.
She also accepted the Rail Delivery Group's calculation that railfreight is worth £1.6 billion a year to the British economy.
She continued: "Both the Doncaster North Chord and the Ipswich Chord have given us significant improvements in rail freight journey times out of Immingham and Felixstowe. We have just opened the Reading flyover, providing grade separation to improve both rail freight performance and reliability for passengers.
"At the same time, we are looking at new opportunities for carrying goods by rail. We know there have been pilot schemes for carrying low-bulk goods on passenger trains, such as the partnership between East Midlands Trains and 5PL on routes between Leicester, Nottingham and London. There should be scope to grow this market. If passenger trains have off-peak services with very few passengers, why should they not make use of available space to offer a parcel service?"
However, she also warned that rail faces fresh challenges as well: "Electrification of the road network will challenge rail's green credentials. We've seen around 30,000 plug-in car and plug-in van grant claims submitted since the grant scheme began in 2010. Autonomous road vehicles and the platooning of lorries are being developed around the world, and trials of autonomous road vehicles will take place here in the UK in Greenwich, Bristol, Milton Keynes and Coventry.
"Rail needs to respond to these developments. Just as we have with road vehicles, we need to think about how we power the rail network and ensure our use of energy is efficient. The electrification programme is key, but electrification is unlikely to be cost-effective everywhere. That's why there is so much interest in the Independently Powered EMU – also known as the battery powered train – which has recently completed several successful weeks in passenger service.
"The energy challenge will be more acute for freight, where you need a locomotive that can run for long periods on non-electrified routes."
She concluded by asking for the industry's help: "What do you need from my department and from government? More joined-up investment with passenger-facing improvements? Better planning guidance to make sure critical road and rail interfaces are built where they should be? Help in raising the profile of railfreight? After all, you are a great privatisation success story.
"I want to listen to you and your colleagues across the industry."
Reader Comments:
Views expressed in submitted comments are that of the author, and not necessarily shared by Railnews.
The cessation of 'Red Star' and Royal mail bulk movements by rail didn't have anything to do with 'privatisation'; more to do with completely terrible reliability and 'customer service'.

The railway is a much more 'reliable' carrier now; and if existing passenger assets can be used for new parcels and 'light-freight' carriage' (off-peak and overnight); then this makes complete business sense.

The world has moved on from having retail units; ('Red Star Offices'); so I suspect this new business model will be based on business sector focussed low-cost logistics fundamentals, and will include complete transport solution options; (full collection and delivery).

With the (re)advent of parcels being picked up from stations I could see that it would make sense for trains to carry the parcels to the station. Given this tends to be from stations which are manned a lot of the time it is unlikely to require much in the way of extra staff hours.

If passenger trains were used it could be fairly easy to utilise rolling stock which is otherwise lightly used in the off peak periods to provide extra space to accommodate the parcels.

Interesting idea but would need some creative out of the box thinking to implement successfully.

* Train crew - extra person needed on train to load/unload parcels?
Opportunities to combine with other duties - light user routes?
* Station facilities - platform secure storage for parcels?
Avoid need for parcel staff to continuously man station.
* More fold-up type seating space on trains?
For parcels, cycles, wheelchairs, buggies, large luggage.
Didn't the old guard area provide such - except no fold-up seating or grab rails!
* Improved off-peak formation flexibility?
Fluctuations in off-peak demand are not always well catered for.
Dedicating some off-peak space for parcels will make that worse.

Unfortunately Red Star became City Link which went bust on Christmas Day. The Parcels sector is very competative and there are little profits to be made there. Do the Postal Trains just carry Letters - or do they carry Parcels as well ? If they don't its an opportunity, - but I presume that most urgent high value packages are best carried singly door-to-door by Motorbike.

I remember when BR had its Red Star Parcels service which transported parcels around the country but all was lost when rail was privatised .
This loss was further compounded when the Post Office moved its deliveries from rail to road adding thousands more lorries to congested roads.

We now have a new opportunity for parcels by rail when one considers the growth of ordering goods on-line and these new operators like Doodle who are opening outlets at stations like Waterloo. While new style passenger trains with walk through carriages and double leaf doors and standing areas offer the space for parcels off peak or on dedicated trains like the trains the post office already have and let's not forget the French Banana High Speed Trains used to carry post across France.

However once lost it is difficult to recreate a service like Red Star Parcels was and so will need to be created in stages.

As for electric road vehicles these surely are for use for collection and delivery at each end with rail doing the trunk haul currently done with HGV lorries on congested motorways .

The recent trial run into Euston needs to be repeated and become a regular service although the rebuild of Euston for HS2 may mean another route might need to be developed .