Posted 22nd December 2014 | No Comments
Rail industry braces for winter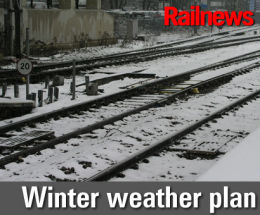 THE rail industry has published plans setting out how it is preparing for bad weather during the winter.
The Rail Delivery Group has admitted that heavy snow and ice or flooding will always have an effect. When conditions mean it is not safe for operators to run normal timetables – for example when ice prevents points working or flood water rises above tracks – speed restrictions are imposed and some trains can be cancelled. However, the RDG emphasised that 'the industry's key focus will be keeping as many trains running as possible, so long as the industry's stringent safety standards are not compromised.
Measures to improve the railway's resilience to snow, ice and flooding set out by the RDG include:
1. Trains:
- Fitting of some trains with snow ploughs, hot-air blowers, steam jets, brushes, scrapers and jets for heated anti-freeze and compressed air to quickly de-ice tracks, plus heated skirts for trains running in colder parts of the country;
- Thorough checks of standard train features designed to prevent problems caused by extreme winter conditions, including coupler heaters, door seal grease, fuel tank heaters and horn heaters;
2. Tracks:
- Empty 'ghost trains' will run through the night in key areas as temperatures fall, to help keep tracks clear; freight 'proving trains' will run in the mornings following adverse conditions to ensure routes are clear;
- Network Rail has an expanded winter fleet that now includes 14 snow ploughs, 10 snow and ice treatment trains, two snow blowers, 25 locomotives fitted with mini snow ploughs (10 more than last year) and 24 multi-purpose vehicles (14 more than last year) which carry de-icing equipment;
- Anti-icing fluid and heating strips are used on conductor rails to stop ice building up which would prevent trains from drawing power; the addition of heating strips in key locations in the south east has reduced ice-related incidents by up to 80 per cent;
- Flood defence systems are on standby, including inflatable barriers which protect tracks and vital equipment from flood water;
3. Signals and points:
- Heaters and NASA grade insulation have been attached to critical points to prevent ice forming;
- Protective covers have been added to 4,000 points and 2,500 points motors, to keep snow out and prevent damage by ice falling from trains;
- Remote temperature monitoring has been introduced and a helicopter fitted with thermal imaging cameras to identify points heaters that are not working effectively is on standby;
4. Stations and depots:
- Ensuring depots and stations have enough salt, shovels and de-icer supplies;
- Preparing specialist equipment such as hot air blowers and steam jets at depots;
5. Staff:
- Plans have been drawn up for staff to be based at strategic places on routes in times of severe disruption to provide information and advice to rail users; and to ensure that full depot staffing is maintained even where some staff are unable to get to work;
- Thousands of staff will patrol the network round the clock in times of extreme weather, clearing snow and ice from junctions and tunnels;
- When flood warnings are received from the Environment Agency, staff and equipment will be sent to 'at risk' areas so preventative and mitigation measures can begin.
The RDG has also pledged to improve information for passengers, so that consistent details are displayed on stations, websites, mobile apps and social media, and also giving as much notice as possible of any changes. Efforts to explain passengers' rights to compensation are also being stepped up.
RDG director general Michael Roberts said: "The industry has learnt valuable lessons from recent winters about where we need to concentrate our efforts to improve how we respond to extreme conditions. When severe weather hits, we will focus on ensuring that the railway can continue to run as many services as is safely possible, and that passengers get up-to-date and consistent information."